Around the Table: Expanded Customer Service for the Foodservice Equipment Industry
Dennis Wendt, Technical Service Manager for Antunes, knows when a customer's foodservice equipment goes down, every moment spent waiting for a repair is money lost.
As a service manager, Wendt's goal is to address the issue as fast as possible either through technical assistance on the phone or on that very first service visit.
Eight years ago, service companies carried an abundance of parts for all the manufacturers they represented. With a steady increase in manufacturers over the years, it became unsustainable for service companies to manage and maintain all of these parts. Now, service providers order the parts they need when they need it.
This shift led to the creation of large parts distributors—the economies of scale generated by these distributors lower purchase costs for the service providers.
Wendt said Antunes utilizes ASA's (authorized service agents) to provide a level-1 service support for the customer to speed up repair time. If the specialist on the phone isn't able to resolve the issue, they will have a good idea of the problem.
When they dispatch a technician for the service call, they will arrive with the potential replacement parts needed.
"The local ASAs that we utilize are CFESA-certified (Commercial Food Equipment Service) technicians," Wendt said. "They're sending out top-notch, trained technicians. And that goes for everyone inside the office, as well, whether it's your warranty admin, your general manager, your service manager or your dispatchers. They all have that level expected from a CFESA-certified company."
Be sure to subscribe to our industry publication for the latest news, videos, and podcasts in the Food & Beverage Industry.
Follow us on social media for the latest updates in B2B!
Twitter – @MarketScale
Facebook – facebook.com/marketscale
LinkedIn – linkedin.com/company/marketscale
Latest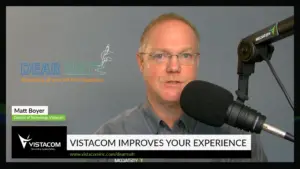 December 11, 2023
In a time when the AV industry supply chain faces unprecedented challenges, understanding its current status and future trajectory is crucial. In this week's segment of "Dear Matt," presented by Vistacom, host Matt Boyer, the Director of Technology at Vistacom, brings his over 30 years of experience in the audiovisual industry to the status […]
Read More