FinTech Meets FoodTech at GroceryShop 2021
Key Points:
Groceryshop 2021 is taking place September 19-22 in Las Vegas.
A key topic of conversation will be centered around the convergence of FinTech and FoodTech.
FoodsPass is excited to debut their new new B2B brand portal, which offers free hyper-personalized advertising for restaurants and food brands.
Commentary:
The motto for Groceryshop 2021 is, "Reconnect with your community. Reimagine the future." As the industry undergoes a massive transformation due in large part to COVID-19, there has never been a better time to evaluate what the future holds for consumer packaged goods and grocery stores.
For Travis Matthew, the Founder & CEO of FoodsPass, this year's show is an exciting opportunity to explore the convergence of FinTech and FoodTech. This is an area that he knows well as a result of the work that the Los Angeles-based startup has done since their inception.
Travis joined MarketScale to tell us what he is most excited to see at this year's show and to give us a preview of what attendees can expect to see from FoodsPass, including a couple of exciting announcements.
Latest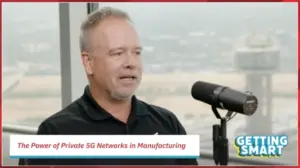 September 25, 2023
The Convergence of 5G and Automation in Manufacturing: A New Industrial Revolution The manufacturing industry stands at an inflection point. Advances in 5G technology and automation are coming together to transform the way products are made, and the role that humans and machines play in this process. Per Treven, Director of Business Development at Ericsson, […]
Read More