Is Technology Changing Grocery Shopping As We Know It?
Grocery stores are often viewed as a mundane necessity, all that seem to follow a similar model. Today though, some are utilizing technology to entertain the consumer, collaborate with food providers, and create food resources for their communities.
Daily Table's particular focus is on making the grocery experience "tasty, healthy, convenient, and truly affordable" in food deserts.
Daily Table partners with a "large network of growers, supermarkets, manufacturers, and other suppliers" who either donate their excess food that is still safe to eat, or sell that excess to Daily Table at a reduced price.
The food is then either sold directly to the consumer, or made into healthy, ready to eat meals. This process allows the nonprofit to take aim at the issues of both reducing wasted food, and providing affordable accessible nutrition. As of 2017, Daily Table recovered 1.3 million pounds of food that would have been wasted, largely by selling products that only have a few days left before reaching their "sell by" date, products that normally would go in the trash.
Perhaps most impressive are the prices. One of the biggest deterrents to eating healthy is the costliness of healthy food, but Doug Rauch, the former Trader Joe's President and founder of Daily Table, has made their offerings comparable to fast food prices. This truly provides a dignified answer to food insecurity.
Farmhouse Market is utilizing technology to make the grocery store experience more independent for the customer. A sort of "year-round, indoor farmer's market," the location is open 24/7 to members who utilize a keycard for entry and a self-checkout for purchases.
The location is only staffed nine hours a week which means that at all other times a customer can come and make their purchases without interacting with any employees. This model arose as a response to a local need for convenient access to organic foods and to accommodate odd hours.
Farmhouse Market was created to serve the approximately 40 percent of Minnesota's population that lives outside of metropolitan areas by creating smaller and more affordable food outlets with smaller labor costs. This allows these communities to access local and organic food that is often otherwise transported out to metropolitan areas for sale, which helps "rural communities to increasingly take control over and profit from their own local food production and consumption."
Using technology to find new ways to accommodate the needs and desires of local customers may soon be a necessity for grocery stores throughout the country.
When it comes to food products, Jungle Jim's International Market seems to do it all. With 180,000 items from over 75 countries, including 800 different kinds of produce, 1400 different cheeses, an in-house bakery, meat shop, and seafood department, the options are seemingly endless.
Its website even boasts that "you might find something one day that you won't ever see again." This model seems to apply not only to their products but seems to speak to the unforgettable nature of the entire Jungle Jim's experience. Filled with animatronics, specific sections for foods from various countries, and many products that one does not see every day, Jungle Jim's truly is an experience-based destination.
Investing in the experience has paid off with over 80,000 customers visiting per day in 2012, when the store only had one location. The store has also been rated best place for beer in grocery in Ohio for 2017 by RateBeer, and even received the "America's Best Restroom" award from Cintas in 2007 for their bathrooms which are cleverly disguised a portable toilets.
For the latest news, videos, and podcasts in the Food & Beverage Industry, be sure to subscribe to our industry publication.
Follow us on social media for the latest updates in B2B!
Twitter – @FoodMKSL
Facebook – facebook.com/marketscale
LinkedIn – linkedin.com/company/marketscale
Latest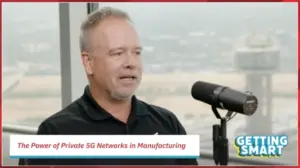 September 25, 2023
The Convergence of 5G and Automation in Manufacturing: A New Industrial Revolution The manufacturing industry stands at an inflection point. Advances in 5G technology and automation are coming together to transform the way products are made, and the role that humans and machines play in this process. Per Treven, Director of Business Development at Ericsson, […]
Read More