Is This Fresh? Technology Tells Us in Real-Time
Cold chain management is greatly dependent on products staying within safe temperature ranges. A deviation can cause products to spoil or be ineffective. Now, technology is enabling better workflows and the ability to track in real-time. Our guest today, Joe Battoe is CEO of Varcode, a technology platform that monitors temperature-sensitive goods—items that have a high propensity to end up as waste.
"The United Nations recently issued a report putting the number of food waste at $400 billion every year. Pharma is at around $35 billion," Joe offered. Technology, however, can help reduce these numbers.
"We have three goals for our product: improve safety, ensure compliance, and reduce waste across the cold chain," Joe said. With these objectives in mind, Varcode makes temperature tracking easier. Based on whatever temperature range identified for the product, the barcode actually changes color when it deviates. It also tracks how long the product was out of range. Simply scan the barcode to view the stats.
Having this data isn't enough, and that's where the cloud comes into the picture. All data is sent to the cloud in real-time, which can prompt notifications to alert stakeholders. Further, the data is kept in a blockchain structure to prevent the transactions from ever being deleted or altered.
Latest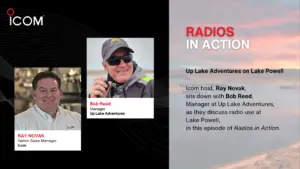 November 29, 2023
Delving into the serene beauty of Lake Powell, the Icom Podcast "Radios in Action" pairs the thrill of personal watercraft adventures with the crucial use of marine radios. Host Ray Novak and Bob Reed, the Manager of Up Lake Adventures, discuss the enthralling experiences offered by Up Lake Adventures in Utah's majestic landscapes. In […]
Read More