It's Time to Use Media to Reengage C-Store Customers
Even as convenience store revenue holds strong in the midst of a labor shortage, a lasting weakness of current c-store operations is coming from outside forces: the consumers. It's evident from retail ecommerce numbers that COVID conditioning accelerated consumers' search for faster, more convenient, and contactless solutions during their shopping experiences.
An August 2020 study from Convenience Store News backed up this need to elevate the in-store experience after finding how vulnerable c-store revenue can be. According to the study, 52 percent of consumers are ready to axe c-stores from their daily shopping routine if push came to shove.
So with some revenue optimism but lasting instability in the industry, how can convenience stores rebuild a strong relationship with their customer base? We posed a couple of questions to Brian Nelson, COO of NewsBreak Media Networks, a communications firm focusing on merchandising messaging and increasing businesses' profit margins to unpack these industry trends. He helped us better understand how the COVID acceleration is changing the relationship between store and consumer as well as the intersection of in-store media and the c-store experience, and how this can not only drive more revenue but also remove friction from the actual shopping experience.
Follow us on social media for the latest updates in B2B!
Twitter – @MarketScale
Facebook – facebook.com/marketscale
LinkedIn – linkedin.com/company/marketscale
Latest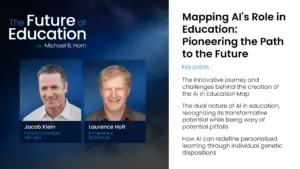 October 2, 2023
Mapping AI's role in education should be a critical step in bringing together innovative technology-based solutions with the expertise of human educators. With rapid advancements in artificial intelligence and an increased reliance on technology-driven educational solutions, the education landscape is on the brink of a significant transformation. AI promises highly personalized learning experiences, efficient administrative […]
Read More