Around the Table: The Benefits of Ultrafiltration Water Systems
Welcome to Around the Table by Antunes. This podcast, designed for the foodservice industry, takes an inside look at the products and solutions that benefit providers and customers around the world.
On this premiere episode, Melissa Neckopulos, GM of Water for Antunes, discussed the importance and benefits of a water ultrafiltration system for food services.
"Most foodservice providers would all agree that reliable, filtered water is critical to their operations," Neckopulos said. "Water is an ingredient to food, beverages and appliances. Any improperly filtered water would affect the taste, have wear and tear on the equipment, and would affect the overall customer experience."
One issue with many foodservice water filtration systems is the continual maintenance and replacement of cartridges.
Neckopulos spoke to Antunes' VZN ultrafiltration system and its self-cleaning technology, which reduces the need for frequent cartridge replacement.
"It's a base filtration system that cleans the water and takes out the particulate matter before it goes to the carbon filter," she said.
Periodically, it cleans itself, which extends the overall life of the cartridge anywhere from five to 10 years.
Can an ultrafiltration water system make an impact on foodservice sales? Neckopulos cited a couple of examples where owners saw an increase in beverage sales after switching their filtration system over to VZN.
One restaurant owner was changing out their filtration cartridges every three months due to clogging, and the pressure loss resulted in lost beverage sales.
Once the owner got the VZN ultrafiltration system, it made a tremendous impact on his business through less cartridge expense, maintenance and an increase the taste quality of the beverages served.
For the latest news, videos, and podcasts in the Food & Beverage Industry, be sure to subscribe to our industry publication.
Follow us on social media for the latest updates in B2B!
Twitter – @MarketScale
Facebook – facebook.com/marketscale
LinkedIn – linkedin.com/company/marketscale
Latest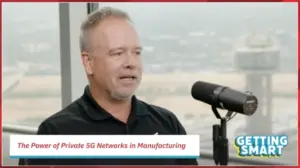 September 25, 2023
The Convergence of 5G and Automation in Manufacturing: A New Industrial Revolution The manufacturing industry stands at an inflection point. Advances in 5G technology and automation are coming together to transform the way products are made, and the role that humans and machines play in this process. Per Treven, Director of Business Development at Ericsson, […]
Read More