The Best Strategies for Restaurants to Combat Inflation
How Inflation is Hitting Restaurants
Inflation is everywhere. But you already knew that. In the dining market, the price crunch is forcing restaurants to get creative. According to Bid on Equipment, "50% of people take out and eat out less because of inflation." Seated surveyed their top partners in New York, Dallas, and Atlanta, and they found that more than 66% experienced a decrease in sales and a decrease in bookings due to inflation. Lightspeed Commerce reported that "inflation has increased by .98% every month over the past year." Although there has been a 1.1% increase in restaurant bills, it does not consider all facets impacting the industry.
"Menu prices are not climbing at the same rate as inflation, while the food costs are pacing ahead of inflation. What this means when you adjust all of that – the margins for restaurants are slowing down," said Barbara Castiglia of Modern Restaurant Management. Castiglia reports that proactive restaurants are tackling it from all sides to combat the crunch and attempt to steady margins. "They're making cutbacks, a shortened overall menu, increased menu prices, additional fees, and reduced staff," said Castiglia. According to the New York Post, bars may even short wine pours from the usual six oz. to four oz.
Creative Solutions and Connections
"The foods that they're seeing inflation impact the most: meats, seafood, desserts, and alcohol," said Castiglia. Hence, the story of the shafted wine pours. Unfortunately, evasive measures will only harm your guest relationships. Inflation fees, reported in Sun Sentenial from South Florida to West Virginia, may not be the most creative idea, but the tactic is transparent.
Innovation will go a long way. As John Adams said, "Every problem is an opportunity in disguise." Castiglia recommends using seasonal ingredients or curating special events. Seasonal ingredients offer an array of benefits: a price break and more flavor.
Since people are going out less often, consider creating a special event to lure them in for a limited experience. Special occasions could include specific themes, limited menus, one-time cocktails, and entertainment for a set price. That way, the dining experience becomes a special event. It will memorably engage your guests. "Do things to make it special, to draw people in and bring them in," said Castiglia.
Continue to Foster Digital Efforts
Finally, during this stressful time, do not neglect your online presence. Most restaurant searches begin online from regular posts to ensure accurate information on your website. "It's important to ensure that your digital welcome mat is welcoming and that you post things out there," said Castiglia.
Latest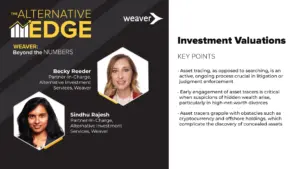 December 4, 2023
In this episode of The Alternative Edge, a Weaver: Beyond the Numbers Podcast, host Becky Reeder, an audit partner and co-leader of the alternative investments practice at Weaver, engages with Sindhu Rajesh, an Alternative Investment Services Partner with Weaver. They unpack the complexities of venture fund valuations, offering critical insights into industry dynamics and best […]
Read More