Transform Your Food Displays and Drive Revenue with SandenVendo's Impulse Series Hot Food Combo Serve Display
SandenVendo has a long-standing reputation for providing exceptional hot food displays that enhance products, optimize space utilization, and, most importantly, drive revenue. In an exclusive interview with MarketScale Studio, our expert reveals the groundbreaking Impulse Series Hot Food Combo Serve Display, taking SandenVendo's mission to new heights.
The Impulse Series introduces exciting new features to elevate your food display experience. With single wide stainless steel shelves, these models offer increased storage capacity. Notably, the removal of the center shelf post simplifies the cleaning process, ensuring effortless maintenance. Equipped with powerful 185 watt heaters and six individually adjustable heating zones, this display enables rapid temperature recovery and maximizes the quality and hold time of each product.
A standout feature of the Combo Serve HFDC is its swing open front doors, designed to create an enticing shopping experience for your customers. The sliding back doors facilitate seamless restocking, enabling your employees to maintain a smooth workflow. Warm LED lights enhance the visual appeal of the food, capturing customers' attention and driving increased sales, ultimately boosting your revenue.
What sets the Impulse Series apart is its seamless integration with existing units. Despite the impressive enhancements, these new models maintain the same exterior appearance and size as the legacy cases, ensuring a harmonious and visually appealing display.
To stay ahead of the competition and revolutionize your food displays, reach out to SandenVendo today. Embrace this opportunity to transform your business, enhance customer satisfaction, and drive significant revenue growth.
Latest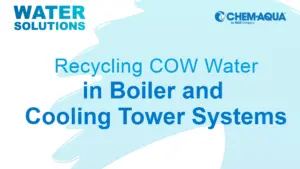 December 7, 2023
For the latest episode of ChemAqua's Water Solutions podcast, the focus was on an innovative approach to water conservation in the dairy industry. The show examined the potential of reusing Condensate of Whey (COW) water, a byproduct of dairy processing, and highlighted some of its economic and environmental benefits. Hosted by Dani Waddell, the informative […]
Read More