VendiBean Co-Founder Reveals Key to Finding Work/Life Balance
Teal Cooper, co-founder of San Diego-based VendiBean LLC, joins hosts David and Matthew Shields of the "Like It's Your Job" podcast from TSG Publishing to pull back the curtain on how her high-end espresso vending business is "disrupting" the coffee vending machine industry.
"My senior year, we saw a huge gap in the market for high-quality coffee that was conveniently located on-the-go, 24/7, on college campuses," she says, recalling the early days of the venture.
With VendiBean's five-year birthday right around the corner, the strategic consultants with the Shields Group interview Cooper about lessons learned and best practices from the enterprise she started with her own sibling, Tristan Cooper.
"The idea really came while I was studying abroad and saw the concept of a high-end espresso machine overseas," Teal Cooper imparts to the podcast hosts. "My brother called me with the same idea, coincidentally — and we knew we had to do it."
So, in early 2017, Teal Cooper and her brother set out with the simple objective of filling the dearth of high-quality coffee locations available around-the-clock on college campuses. But, as neither of the budding entrepreneurs had any background in making coffee or operating a business, they came across many unexpected hurdles on their path to success.
"We had to get our hands dirty," she admits.
Five years later, VendiBean boasts 200 machines in three states and a staff of 10 employees.
As with many of their interview subjects, David and Matthew Shields touched on the successes, failures and lessons learned by a young business entrepreneur launching their own company. But with this episode in particular, the brothers engaged Teal Cooper in a lengthier exploration about how she found a work/life balance as her enterprise soared.
Listen to the full episode of "Like It's Your Job" to hear how the highly motivated young professionals are finding ways to lower stress levels in their professional and personal lives — and how they can even carve out a "happy place" in the day-to-day work grind (literally, in Teal Cooper's case).
For more information on the "Like It's Your Job" podcast, check out the podcast's page on Apple Podcasts. To explore Teal Cooper's own podcast, "Real with Teal," go to its website.
Latest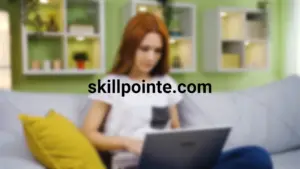 November 30, 2023
Adopting an entrepreneurial mindset is increasingly essential in today's diverse professional world. This approach, emphasizing resilience and innovation, is applicable in various careers, encouraging individuals to see opportunities in challenges and to think beyond conventional methods. SkillPointe recognizes the importance of aligning this entrepreneurial spirit with career aspirations. The organization assists individuals in transforming […]
Read More