Unwrapped: Why Advances in IoT Will Change Vending and Foodservice Forever
Internet-connected devices have changed almost every industry, but their influence has been slow to reach vending and foodservice.
That's changing now, with the vending industry deploying many IoT devices and changing the future of vending forever.
"I look at it as the connection between man and machine and what we do with it to enhance efficiency or enhance the consumer experience – how we use it to enhance safety," said Mike Weisser, President and CEO of SandenVendo. "That ability is what IoT means to me in how we utilize that and deploy it throughout the equipment we manufacture in order to make other companies more efficient or enhance their customers' experience when they make a purchase."
That experience is changing now that IoT technology is becoming more prevalent. Vending machines in the United States have looked very similar over the last four decades, but with touchscreens and other technologies becoming more prevalent, consumers are being reached in a way they never have been before.
"With IoT, we are looking at cashless and are taking it one step farther. We're talking about contactless. With this current technology, we're able to utilize near-field communication. Before you approach, the vending machine – through the interaction of NFC – is able to communicate with your cell phone if you allow it," said Paul Yang, General Manager of Aaeon Electronics, "In this case, the machine would know you're approaching. Then you select your products through a touchscreen or with the app on your cell phone."
There also may be a scenario in which a user approaches the vending machine and yawns, triggering suggestions for a caffeinated beverage like a soda or an energy drink, or is sweating after a run, and the machine serves up its rehydrating options.
Some of those advancements may seem far from the current reality, but there are smaller tweaks, as well – things like making suggestions that aren't in the machine but could be delivered to the customer's house the next day, or simply serving a relevant advertisement based on selection.
Your 3 p.m. snack break may never look the same.
For the latest news, videos, and podcasts in the Food & Beverage Industry, be sure to subscribe to our industry publication.
Follow us on social media for the latest updates in B2B!
Twitter – @MarketScale
Facebook – facebook.com/marketscale
LinkedIn – linkedin.com/company/marketscale
Latest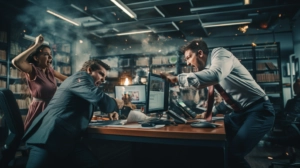 September 22, 2023
The kind of news that is delivered everyday serves as a grim reminder of the escalating violence across the U.S. Evidently, the need for proactive measures to ensure safety has never been more pressing. Such violence is not limited to any particular locale. It's actually permeating in so many different areas once considered […]
Read More