What a Dip in Veganism Popularity Means for the Food and Beverage Industry
Key Insights:
In 2022, 5% of respondents were vegan in the Statista Survey.
Harris Poll in 2020 found that about 3% of U.S. were vegan.
New data finds vegan and vegan related google searches declining.
To eat meat or not to eat meat? That is the question. Vegan, vegetarian, pescatarian, no matter how you describe it, there has been a clear trend of decreasing meat consumption in recent years. A new study from Chef's Pencil indicates that the vegan trend is either on a downward spiral or plateauing.
Chef's Pencil analyzed Google Trends and Adwords data from the 3rd quarter of 2017 to Q1 of 2022. The data set shows that the popularity of veganism may be slowing down. "Research included the most popular 500 vegan terms in the US, including recipes," said Barbara Castiglia. The research offers insight into what food trends we can expect this summer and for the rest of the year. However, Castiglia posed, "maybe [veganism] is becoming more a part of our culture and they don't need to" search as often as they used to.
Sentient Media reports that about 5 percent of respondents were vegan in the Statista Global Consumer Survey on diets and nutrition in the U.S. in 2022. This number is up from previous years. According to Sentient, the Vegetarian Resource Group conducted an online survey with The Harris Poll in 2016, 2019, and 2020, and found that about 3 percent of U.S. respondents were vegan.
In the US, the search terms "vegan restaurants" and "vegan food near me" skyrocketed in the summer of 2021 and the first quarter of 2022. Globally, veganism searches peaked for that period (between Q3 2017 and Q1 2022) during the fourth quarter of 2019. On a global scale, the US doesn't rank in the first 10 countries of vegan popularity.
The data also showed that participation in Veganuary only increased by 8% versus 45% growth the year prior. And even though vegan alternative meat products have significantly improved. There was only a 6% increase in sales in 2021 compared to 45% in 2020.
What's certain is that "people are looking for local restaurants that serve vegan food and a variety of vegan food," said Castiglia. It has become mainstream. Restaurants need to be prepared to cater to all different dietary needs. Having vegan dishes available ensures that restaurants meet the needs of various guests.
The introduction of "flexitarian" diets shows that people are willing to embrace a variety of diets. According to BBC Good Food, a flexitairan primarily eats vegetarian, but occasionally eats meat. "People are interested in vegan products and vegetarian products, particularly because they have gotten so much better over recent years," points out Castiglia. It seems that more people are conscious of their meat consumption than ever before.
The Chef's Pencil data showed that recipe searches are down too. However, that could be attributed to the last two years of the pandemic and people stuck at home. "People are ready to eat out of the house and aren't cooking at home as often," torts Castiglia. PETA expects that other vegetarian trends we can expect include vegan alternatives for eggs, fast food innovations, and sustainable seafood options.
Latest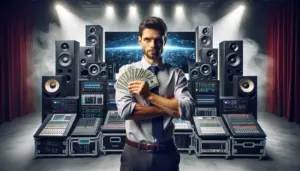 December 8, 2023
Mastering AV sales strategies in a global professional audio-visual (Pro AV) market, poised to reach $79.2 billion by 2028, requires much attention to detail. The surge in demand from corporate, government, and institutional sectors, driven by the need for enhanced productivity and efficient working environments, gives AV sales pros a lot of opportunity. In […]
Read More