Why Airlines Are Going After Michelin Stars
As the holiday season approaches, many Americans will be catching flights to see loved ones and enjoy a home cooked meal. What can travelers expect when it comes to airplane food on the way, though? Although the industry has received a poor reputation for its culinary efforts, it turns out the trend among airlines currently is to partner with professional chefs.
American Airlines partnered with Julian Barsotti, United Airlines boasts multi-course meals created through consultation with chefs from the Trotter Project, and Delta Airlines now partners with chefs in New York City, Los Angeles, and Atlanta to provide a taste of home to passengers departing from those cities.
The difficulty then lies in finding out "what's actually able to happen on an airplane." United Airlines Executive Chef Gerry McLoughlin pointed out in a video released by the company, "You've got the reduction of moisture because you're in a dry cabin. And then you also have that white noise in the background which they say it affects your tastes and how you perceive product."
At an altitude of around 36,000 feet, "most passengers lose about 30% of their taste bud sensitivity," according to United.
One of the biggest goals then for airline chefs is to create dishes that employ bold flavors, and often they must increase spice and flavor just to get the same taste one would usually get on the ground.
Another challenge comes from the necessity to cook the food at ground level and reheat it in-flight. This requires chefs to consider which cuts of meat are most suitable to this practice and how to reinfuse moisture into the dish. This is often done by adding sauce.
Another challenge for the airline food industry is to accommodate the public's growing desire to eat food that is not only delicious, but healthy. Delta Airlines especially has been praised for its "transparency into ingredient and allergen information for customers" and for "offering the only non-GMO snack box."
Meanwhile, American Airlines was criticized strongly in the same food investigation for "not publishing any food or nutritional information on its website," with United faring only slightly better. It seems airlines have found themselves at the crux of the problem most Americans are facing in their day to day lives: how to pursue flavor and health simultaneously. At the moment, Delta seems to be the airline striking the most balance between the two.
Perhaps the largest challenge in the airline food service industry is how to reduce waste. Meals that are unused in a given flight are not simply used on the next one, but are actually "considered 'contaminated'" and are required, in the case of all international flights entering the US, to be disposed of or burned "so that no food-borne illnesses can spread from country to country." Additionally, if a flight has been delayed for several hours all the food is replaced and the old is food thrown out to ensure safety.
Additionally, food is rarely donated due to liability and food poisoning concerns. JetBlue has taken to composting about 100,000 pounds of its food waste. Other airlines have taken to stocking only 95% of the meals for a given flight in hope to reduce waste.
While airlines still have a long way to go when it comes to reducing food waste and providing healthier in-flight meal options, partnering with renowned chefs means the flavor is greatly improving. With American and Delta airlines both now offering complimentary meals in economy class on domestic flights, this holiday season may be the best time to test out those new flavors and somewhat healthier options. So get on board, throw on your headphones, and dig in.
Follow us on social media for the latest updates in B2B!
Twitter – @HospitalityMKSL
Facebook – facebook.com/marketscale
LinkedIn – linkedin.com/company/marketscale
Latest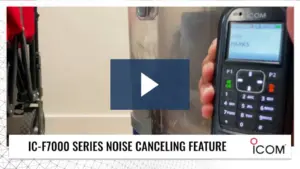 September 27, 2023
In this brief product demonstration video, ICom's IC-F7000 Series receives a mic test of its noise-canceling feature. Through the two demonstrations it is clear the IC-F7000 removes loud ambient noise for clear two-way communication.
Read More