Is This the End of Masking Up? What This News Means for Healthcare
The United States is experiencing another turning point in the COVID-19 pandemic. Dr. Anthony S. Fauci, the Biden administration's chief medical adviser, said April 27 that he believes the U.S. is out of the "explosive pandemic stage," according to The Washington Post.
The World Health Organization still considers COVID-19 a pandemic, but experts believe the worst of it may be modern history. "We're really in a transitional phase, from a deceleration of the numbers into hopefully a more controlled phase and endemicity," Fauci told the newspaper.
Immunity has helped the United States reach this point. In fact, a "substantial portion" of Americans now have some degree of residual immunity, according to NPR. (This number includes those who have been infected and those who have been vaccinated.)
"I think, as everybody gains more immunity, as healthcare providers learn how to deal with COVID and [as the variants become much milder], I think we're going to be begin treating this like we do the flu," said Kevin Stevenson, Host of "I Don't Care" with Kevin Stephenson.
While the CDC has recommended masking in healthcare facilities throughout the pandemic, some hospitals are choosing to relax their masking guidelines — especially while infection and hospitalization rates remain low.
There was an average of 1,870 new admissions of patients with COVID-19 between April 19-25 — a -91.5% change from the peak 7-day average between Jan. 9-15 , according to the CDC's COVID Tracker.
"There's been just a little bit of an uptick in COVID, but fortunately hospitalizations really haven't risen," Stevenson said. "I don't expect that we'll see our hospitals overrun."
Masks are becoming optional for patients and providers in some areas of the country, given that they haven't tested positive for COVID-19 and aren't experiencing symptoms.
Many Americans are growing cautiously optimistic about the eventual end of the pandemic. Physicians now have more treatment options — and research — in their arsenal to help with the treatment of mild COVID-19 cases.
In the past few weeks, most states have lifted mask mandates. Many travelers taking planes, trains, and other modes of public transportation have dropped masks, too. In February, the Centers for Disease Control and Prevention (CDC) eased its mask guidance for areas with lower hospitalization rates for COVID-19. That's nearly 70% of the United States, according to NPR.
Stevenson said that ruling doesn't impact hospitals in the same way, as CMS still requires masks in healthcare facilities.
Latest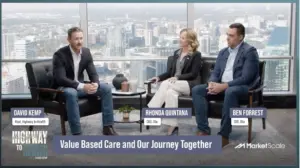 December 7, 2023
As of recent times, the healthcare industry has been progressively shifting towards value-based care, a model that emphasizes patient outcomes over the quantity of services delivered. This transition represents a significant shift that promises to enhance patient experiences and outcomes while controlling healthcare costs. With a growing emphasis on this approach, especially over the […]
Read More