Best-Selling Author Uses Art To To Teach Interpersonal Development
When it comes to improving interpersonal development and character, one doesn't often think of using art to sharpen their skills. However, attorney and art historian, Amy E. Herman, teaches clients from doctors to FBI agents how to utilize visual intelligence to better problem solve. As an entrepreneur, TED Talks speaker, cancer survivor and author, Herman explained how to strengthen these skills to enhance critical thinking and become more connected with others.
Herman described a few of her processes she teaches and the theory behind why they work. For example, one process is what she calls the Four A's: Assess the situation, Analyze the situation, Articulate your observation, and Act. She explained, "I simply use art as data to give people a new tool to really perfect those four A's."
Since most of her clients utilize their left brain, which is the side utilized for numbers and analysis, her processes prod them to engage the right brain to see things from other viewpoints. "I think the best things and the best ideas happen on the exit ramp of your comfort zone," Herman explained. "It refreshes your whole sense of critical thinking."
The basis behind these processes and theories is enhancing human connection. "Human to human, we make connections with people, and it enriches everything – from the service that you get to the conversations that you have – and you never know where that next business is going to come from, and it just makes our engagement that much less superficial," Herman said.
Ultimately, the theme of the episode is: "It's not all about you." By taking in multiple perspectives and appreciating making mistakes, Herman hopes clients and listeners will be able to problem solve more quickly and creatively.
Latest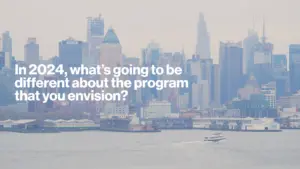 December 1, 2023
In the dynamic telecommunications landscape, Verizon's Partner Network continues to evolve, adapting to new trends and opportunities. For another segment featuring Mark Tina, VP of Indirect Channel Distribution and Channel Chief at Verizon Business Group, he explores exactly what types of significant changes and advancements the Verizon Partner Network will see in 2024. In this […]
Read More