Biden Admin Cracks Down on Anti-Competitive Practices in Healthcare
The legal landscape surrounding anti-competitive practices is a complex one – and it's getting more unwieldy all the time. The Biden administration is bringing down the regulatory hammer with more than 70 federal directives aimed at tackling these anti-competitive practices.
To make sense of it all, particularly in terms of how these regulations impact the healthcare space and aim to improve accessibility and quality of care, Voice of B2B Daniel Litwin was joined for this episode of B2B Today by Faisal Khan, Senior Legal Counsel at Nixon Gwilt Law. The firm focuses on navigating the healthcare industry's regulatory environment, leveraging experts from various backgrounds in the space, including healthcare tech, pharmaceuticals, VCs and large hospital systems.
The administration's directives, titled "Executive Order on Promoting Competition in the American Economy," target specific areas of consolidation and anti-competitive pricing in healthcare, including hospital consolidation, insurance consolidation, hearing aid costs and prescription drug costs.
So, how did the last year and a half of a world rocked by the COVID-19 pandemic reshape the motivators for power-abusive M&As or pricing decisions in healthcare?
Litwin and Khan explored that topic, as well as whether or not the lofty goals of the latest round of regulatory decisions will have the impact President Biden hopes for in the long run.
Follow us on social media for the latest updates in B2B!
Twitter – @MarketScale
Facebook – facebook.com/marketscale
LinkedIn – linkedin.com/company/marketscale
Latest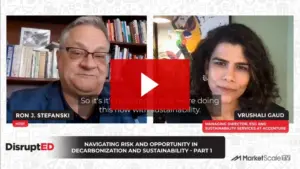 September 26, 2023
The global conversation has shifted dramatically towards decarbonization and sustainability in recent years. With the world experiencing unprecedented levels of disruption, from 5G technology to the challenges of a pandemic, the urgency to address climate change and its implications has never been more palpable. Although most business leaders see the vision of Sustainable Development […]
Read More