Can the Pandemic-Accelerated Adoption of Digital Health Technology be a Positive Prognosis for Rural Health?
Even though doctors' offices have opened their doors and are more-or-less back to normal post-pandemic, the healthcare industry is still facing disruption from all fronts, especially as digital health technology expands its reach and functions. According to one review in the Journal of Medical Internet Research, many people in rural communities report positive outcomes such as convenience and less travel costs when their healthcare goes digital. Down the road, what are additional pros and cons of mass adoption of digital health technology, especially for rural areas?
Patients in rural areas with chronic conditions are posed to benefit from using digital health technology, such as remote patient monitoring devices which will enable providers to deliver care in a more tailored and timely way. However, keeping up with an evolving ecosystem of digital health technologies can be difficult for health systems, especially as they struggle to keep up with the needed infrastructure (and staff) to interface with a decentralized web of solutions. According to one survey, only 41 percent of physicians believe they had the technology to deliver telehealth seamlessly.
Another hurdle is a broadband gap in rural communities. Remote patient monitoring and e-visits obviously require stable internet in patients' homes; however, many rural communities do not have the fast internet speeds needed, revealing new health inequities due to unequal access to these services.
Kelly Arduino, healthcare industry leader and partner for the healthcare consulting practice at Wipfli, which provides accounting, tax, and consulting services to the healthcare industry, gives her analysis on how patients and providers in rural areas should maneuver the accelerated adoption of digital health technology.
Kelly's Thoughts
"What are the benefits and risks for patients and providers, especially in the rural space, which is a space we work in a lot? Let's start with a patient.
Many patients in a rural area don't have access, so anything that reduces the drive time, can be done on their own time, and has privacy – think about a small town and going to a mental health visit, everybody wants privacy – and it actually works, is a benefit. So that's a win. The downside can be that the internet might not be easily available in a rural area, or the app or the technology itself isn't quite as easy to use as you think it might be. Providers have to think about that. Is it really easy to use? Apps developed by developers and not real people sometimes can be a challenge.
And also this is a whole new layer of cybersecurity for providers. It's been an issue before, but with the use of these technologies, it's going to be at the forefront. So it's a necessary change that has to happen to increase access to care for more people in a cost-effective way, especially given we don't have the labor force. So, I look for big changes in healthcare technology, but I'm sure we're up to the task."
Article written by Sonya Young.
Latest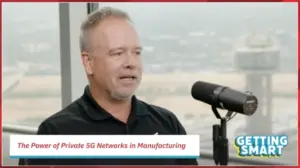 September 25, 2023
The Convergence of 5G and Automation in Manufacturing: A New Industrial Revolution The manufacturing industry stands at an inflection point. Advances in 5G technology and automation are coming together to transform the way products are made, and the role that humans and machines play in this process. Per Treven, Director of Business Development at Ericsson, […]
Read More