Coaching is For More Than Just Sports. Healthcare Professionals Need it, Too.
Today's healthcare professionals are dealing with a plague of their own: burnout. It's a stressful industry with lots of ups and downs. There are many methodologies and strategies to help combat this and build resiliency, but often they don't hit the mark; the reality is that professionals are leaving the field. On today's episode, we explore a new type of healthcare training, Care Team Coaching, that uses positive reinforcement and strength-based development to support care professionals, and is a methodology that can have immediate results.
Today's guest, Janiece Gray, CEO & Founding Partner of DTA Associates, has a long history of healthcare expertise, beginning her career as a social worker then pursuing a master's degree in healthcare administration, which led her to be involved in the patient experience.
"About 10 years ago, I was working for a healthcare organization, and they had all this data related to the patient experience but weren't sure what to do with it, so I dug in," Gray said.
Her desire to help people came full circle in realizing how significant the patient experience is and how it can be improved, which brought her to Care Team Coaching and the desire to look for a better way to enhance the patient experience by supporting healthcare professionals.
"What I found was that training in a classroom setting, although necessary, isn't sufficient. Real-time observations shared with the healthcare provider and one-on-one feedback take this to the next level. We're with these clinicians for a few hours observing interactions and then able to deliver specific recommendations so they can improve," Gray said.
This type of coaching is unlike any other kind of professional coaching in that it's usually a one-and-done type of event. Clinicians receive verbal feedback and a written report based on the observation, with a coaching approach that emphasizes honesty, constructive criticism, and empowering patients through the physicians.
"Another difference is that the patients really set the agenda of what's to be discussed, whereas, with something like executive coaching, the person being coached gets to do that," Gray said.
Give the podcast a listen to learn more about the implementation process of Care Team Coaching, how it really works, how coaches are trained and formed, and why Gray says it's making a tangible difference in healthcare.
For the latest news, videos, and podcasts in the Healthcare Industry, be sure to subscribe to our industry publication.
Follow us on social media for the latest updates in B2B!
Twitter – @HealthMKSL
Facebook – facebook.com/marketscale
LinkedIn – linkedin.com/company/marketscale
Latest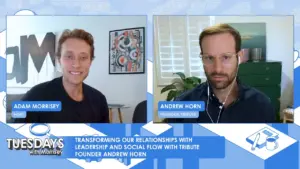 November 28, 2023
Can relationships be transformed through leadership and social flow? Navigating the intricate web of digital relationships can be a tricky proposition. Tuesdays with Morrisey's Adam Morrisey uncovers the transformative impact of emotional recognition in the workplace with Andrew Horn, the mastermind behind Tribute. This podcast edition unravels the story of a platform redefining how […]
Read More