Curvebeam Announces Certification for HiRiseWBCT System for Entire Lower Extremities
CurveBeam is the leader in weight bearing CT imaging for the orthopedic extremities. Only CurveBeam systems offer a wide patient platform that lets patients stand naturally on both feet during a scan.
CurveBeam's HiRise can scan anywhere along the lower extremity from the hip & pelvis to the feet. Weight bearing CT imaging of the hip & pelvis is a novel application not previously available in any system.
"It is exciting to learn this innovative technology is now available in the United Kingdom and Europe," said Dr. Sajid Butt, a consultant radiologist at Royal National Orthopedic Hospital-Stanmore. "Physiological assessment of the bones and joints has obvious advantages, but getting this data via multiplanar imaging enables accurate road maps for effective surgical planning. No other weight bearing imaging modality can provide as much information as the HiRise. The HiRise is competitively priced and is a robust and affordable resilience for any radiology department."
The HiRise gantry tilts for upper extremity imaging and supine lower leg imaging.
"At CurveBeam, we lead through innovation, driven by the clinical needs and research initiatives of our customers," said Director of European Affairs Guy Long. "In less than a decade after we introduced our first weight bearing CT system for foot & ankle, we are now launching our third-generation device which extends this groundbreaking technology to the hip."
CurveBeam's systems utilize cone beam CT technology and are designed for the orthopedic point-of-care setting. The HiRise plugs into a standard wall outlet, requires minimal shielding, and is easy to operate.
CurveBeam anticipates FDA clearance for the HiRise in Q4 2020.
Latest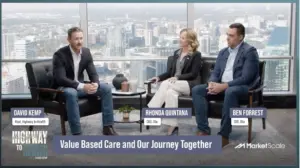 December 7, 2023
As of recent times, the healthcare industry has been progressively shifting towards value-based care, a model that emphasizes patient outcomes over the quantity of services delivered. This transition represents a significant shift that promises to enhance patient experiences and outcomes while controlling healthcare costs. With a growing emphasis on this approach, especially over the […]
Read More