Full Circle Healthcare: The Lingering Concerns and Challenges Left in COVID's Wake
As vaccinations become the dominant part of the pandemic conversation and life reaches a new normal, what are the lingering challenges of those patients who suffered the effects of COVID-19, and what other concerns will exist?
David Macfarlane, the Marketing Communications Manager for Medsphere, shared his thoughts with host James Kent on what he believed some of those challenges might be in the months, and possibly years, to come.
From Macfarlane's perspective, there are many primary concerns once the pandemic starts to get into a manageable shape. "At the top of that list has got to be the challenge of long COVID," Macfarlane said. "We've got a number of people for whom this disease is something that they're going to have to be managing for weeks, and perhaps months, after it looks as though they are out of the woods."
Is the healthcare system prepared for long-term health issues related to COVID-19? Macfarlane said it is something healthcare is starting to discuss. "I don't know that the healthcare system is geared to deal with the number of people who might need long-term care, because it could be a significant number," Macfarlane said.
With so many unknowns, having sharable information and data related to COVID-19 patients makes EHR (electronic health records) such a potentially valuable healthcare resource. "As EHR's have evolved, it's become clear that one of their biggest benefits is the use of big data," Macfarlane said. These vast data sets allow healthcare resources to scan for similarities in patient backgrounds, symptoms, and how bodies react to the symptoms and response to certain medicines.
Latest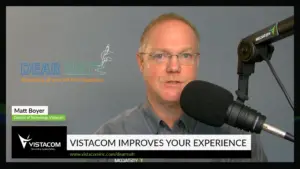 December 11, 2023
In a time when the AV industry supply chain faces unprecedented challenges, understanding its current status and future trajectory is crucial. In this week's segment of "Dear Matt," presented by Vistacom, host Matt Boyer, the Director of Technology at Vistacom, brings his over 30 years of experience in the audiovisual industry to the status […]
Read More