Funding Elder Care is Getting Tougher. Why the Medical Community Needs to Care, with Karen Webb of WRAAA
One thing that's true no matter who you are is that we'll all get old one day. The choice should be yours as a senior citizen what your care is; and fortunately, there are people in the medical community advocating for and assisting members of our older generations to be able to stay in their community and age within the comfort of their own homes. But what happens when the funding for programs under the Older Americans Act dwindles or goes away entirely, and how does it impact not only our communities but the medical industry as a whole?
On today's podcast we sat down with Karen Webb, director of program development and planning at the Western Reserve Area Agency on Aging, to discuss the rewards and challenges of helping seniors stay within a community and age in their homes, and what it takes to allow them to receive those services.
Obviously, it's wonderfully rewarding to be able to give back to generations who led the way for us, but it's not easy, especially with a trend of flat funding over the last several years. As the Baby Boomer generation continues to get older in droves, there are more and more Americans crossing the age of 60; unfortunately, the funding is not increasing along with the dramatic increase of new seniors.
Tune in to this podcast to find out more about the Older Americans Act and the people it protects–those with low income, minorities, and residents in rural areas. We discuss the ways that Webb and her team are trying to raise funding, not only to find and send service providers to small towns, but to keep their professionals happy and passionate about their work; when work is stretched too thin, the creeping issue of caretaker burnout joins the equation.
For the latest news, videos, and podcasts in the Healthcare Industry, be sure to subscribe to our industry publication.
Follow us on social media for the latest updates in B2B!
Twitter – @HealthMKSL
Facebook – facebook.com/marketscale
LinkedIn – linkedin.com/company/marketscale
Latest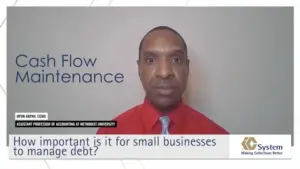 December 8, 2023
Effective debt management through a robust accounts receivable system is essential for small business cash flow and growth, necessitating automated payment schedules and strategic policy adjustments. Collaborating with a collection agency as a strategic partner can enhance revenue recovery while preserving positive customer relationships. How critical is effective debt management for the financial health […]
Read More