Health and Life Sciences at the Edge: Privacy Frameworks in Health and Life Sciences
The American Journal of Medicine noted that healthcare organizations, or HCOs, require a framework that preserves privacy and supports the kind of data collaboration that will make tomorrow's scientific and clinical advances possible while still supporting improved patient outcomes and experiences. Establishing this framework is challenging. Can AI solutions meet those privacy requirements for healthcare and life science applications? This is the question host Hilary Kennedy posed to BeeKeeperAI's CEO Michael Blum, MD and Intel's Health and Life Sciences General Manager, Chris Gough.
"Even large health organizations do not have the diversity, quality, or amount of data required to create high-quality, generalizable AI," said Blum. "The solution is a federated framework that allows each data steward to ensure the privacy of their data by keeping it in their protected cloud, while validating and training AI across all of those stewards."
Gough agreed, saying, "If you can reduce the friction to accessing large, diverse, high-quality data sets – and use those data sets as part of the AI training step – then the algorithms that result will be more accurate for multiple populations."
"Healthcare AI is projected to be a $46 billion dollar market. When you turn that into human impact, there's a tremendous opportunity to improve the quality of care and reduce the cost of care," said Blum. "But the challenge we see over-and-over again is that the algorithms don't generalize across populations. Their accuracy and performance fall off dramatically. We have to get rapid access to much broader and much more diverse data sets."
"We really have a supply and demand problem in healthcare," Gough added. "AI will help the industry better target the scarce resources it has, allowing organizations to be less reactive and more proactive and predictive."
To learn more about Michael Blum, MD, and Chris Gough:
Connect with them on LinkedIn
Read the "Privacy-Preserving Data-Collaboration Methods that Accelerate Healthcare Innovation" white paper: https://www.intel.com/content/www/us/en/healthcare-it/resources/confidential-computing-whitepaper.html
Subscribe to this channel on Apple Podcasts, Spotify, or Google Podcasts to hear more from the Intel Internet of Things Group.
Latest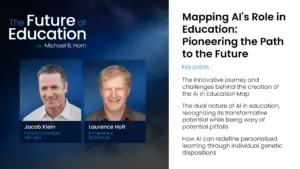 October 2, 2023
Mapping AI's role in education should be a critical step in bringing together innovative technology-based solutions with the expertise of human educators. With rapid advancements in artificial intelligence and an increased reliance on technology-driven educational solutions, the education landscape is on the brink of a significant transformation. AI promises highly personalized learning experiences, efficient administrative […]
Read More