How AI and Automation is Changing Healthcare
Terms like Artificial Intelligence (AI) and automation tend to cause two reactions: trepidation or excitement. And while AI and automation have undoubtedly blended into popular culture as tenets of sci-fi and dystopian futures, AI and automation should evoke more excitement rather than fear for what they can bring to our futures, especially in healthcare.
So, how is AI transforming the future of healthcare?
On the latest episode of the Healthcare ReThink podcast, host Brian Urban discusses the game-changing technology being introduced to healthcare with Co-Founder and COO of CloudMedx, Sahar Arshad.
The two discuss:
How AI is unifying the healthcare system
How CloudMedx uses AI and automation to improve operations and clinical outcomes
How AI and automation is being adopted throughout the healthcare industry
"There's a lot of opportunity to grow in places where it can really elevate the experience for everyone—patients, providers, payers. The experience is very, very broken, right? For a patient, there's long wait times, there's you don't know how much a procedure would cost, it's just a lot of confusion, and similarly with physicians it's the same problem, lots of documentation and administrative work…" said Arshad.
Sahar Arshad is the Co-Founder and COO of CloudMedx, a healthcare data aggregation company that puts data into a single unified platform. She has over 20 years of experience in building products that bring convenience and accessibility at scale. Prior to founding CloudMedx, Arshad worked as a woman in tech in various roles, including as a Business Analyst for Inbox Business Technologies and as the CEO of Imaginate Technologies. She has been awarded numerous industry awards, including selection as a U.S. Data Leader of the Year and U.S. Entrepreneur of the Year at the 2021 Women in IT Summit and Awards Series. She has also been named among the top 10 women leading healthcare startups by Healthcare Global and within the top 25 women leaders in consumer health tech by the Healthcare Technology Report. She earned her BS in Computer Science from the National University of Computer and Emerging Sciences.
Latest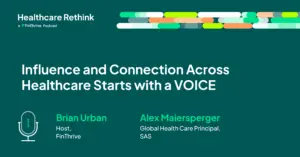 September 29, 2023
In the latest episode of the Healthcare Rethink podcast, presented by FinThrive, host Brian Urban sits down with Alex Maiersperger, the Global Principal Healthcare at SAS. Their conversation charts the role voice plays in influencing and connecting the healthcare industry. Maiersperger, who co-founded the Advancement League, shares his journey from being a healthcare optimist to […]
Read More