How Augmented Reality and Immersive Technologies Can Improve Patient Outcomes
On this episode of Intel's Health and Life Sciences at the Edge, host Gabrielle Bejarano chats with Providence Health System VP and Chief Talent Officer Darci Hall and Intel Health Account Executive Jeffrey Berghammer about the opportunities for augmented reality and immersive technologies to support digital transformation in healthcare.    
When the onset of the COVID-19 pandemic shuttered some healthcare clinic doors, leaders at Providence healthcare knew changes needed to be made in how they delivered services to their patients and providers. Providence Health System began creating immersive, 3-D videos to help patients learn physical therapy exercises at home on their smartphone,s and create internal training videos to continue engaging their current workforce.  
Hall remarks, "…We start to think about more consistent engagement from our current workforce and attracting new caregivers into Providence by innovating. And so, those are things that we're looking at now, especially regarding workforce crisis and being able to provide consistent patient care across our organization." 
The videos Providence creates to help patients and healthcare professionals use 20 Intel®️ RealSense™️ depth-sensing cameras to capture 360-degree actions in what is called "volumetric capture." The footage is then converted into a 3D virtual environment or augmented reality. This unique technology solution set a new golden standard for at-home and after-care, which can be shared amongst patients along the healthcare system's 51 hospitals.
Instead of sitting on a waitlist, patients have been able to view immersive videos describing what kinds of activities the patient will have to do after they're done with surgery. "I think one of the specific areas that Intel was very interested in partnering with Providence on was the translation and localization that was going to be done to help underserved communities – communities where English isn't the primary language,"  says Berghammer.   
Using funding from the Intel Pandemic Response Technology Initiative, Providence built its first filming studio in 2021 and has received further funding from Intel to work with the Gronstedt Group, a leader in augmented and virtual reality development. They hope to create Providence's first smartphone app.  
"This is one way for us not only to drive an innovative approach to the future of learning internally but then eventually provide that out to our communities and our patients as well," explains Hall. By automating patient learning with immersive experiences, Providence expects lower costs, better caregiver experiences, and improved patient health outcomes. 
To learn more about the future of this immersive virtual environment and the healthcare industry, connect with Jeffrey Berghammer and Darci Hall on LinkedIn. 
Subscribe to this channel on Apple Podcasts, Spotify, and Google Podcasts to hear more from the Intel Network and Edge Solutions Group.
Latest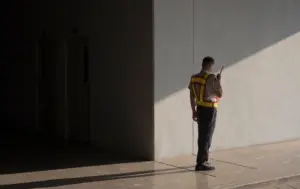 October 3, 2023
This is the age of digital transformation, and its growth is prompting a major reshaping of digital and physical security. IT in particular is one of the components responsible for this shift. But with this digital rise, however, finding a balance between digital and physical remains a challenge. While advancements in security technology […]
Read More