My Care Village: Slowing the COVID-19 Second Wave
Americans have seen firsthand the devastation the coronavirus has brought to their community. However, there's another looming threat overtaking this country: the secondary impact on mental health as a result of the pandemic.
Joining UPIC Health CEO Mary Tucker today to share their insights are Bill Smith, founder of the mental health advocacy organization Inseparable, and Shelley Hearne, who is the Deans Sommer and Klag Professor for Health Advocacy at the Johns Hopkins Bloomberg School of Public Health and director of the Center for Public Health Advocacy.
"The COVID-19 pandemic has put public health on the radar for not just Americans," Hearne said. "It's a global awakening."
Americans, in particular, are experiencing serious difficulty getting the pandemic under control, though.
"It really boils down to the fact that we have neglected our public health system," Hearne continued. "We don't have systems in place that we should've had a long time ago. That's why we're struggling, not just with COVID, but the fact that the United States is the least healthy country out of all other wealthy nations."
The pandemic is also creating new mental health issues and exacerbating existing ones for millions of Americans. Smith noted that the U.S. was experiencing a mental health crisis before the pandemic started, and the current environment is only making it worse.
"The pandemic is the worst of all worlds for mental health," he said. "We're telling people to isolate, and there's the economic pressure on so many people losing jobs."
"Because, historically, we have not invested in mental health, we haven't put the systems in place to take care of people when they're hurting and need help," Smith said. "We can do so much more in the prevention and wellness aspect that is part of that public health sector."
Subscribe to the My Care Village on Apple Podcasts and Spotify for the latest insights in holistic healthcare from UPIC Health and other thought leaders in the industry.
Follow us on social media for the latest updates in B2B!
Twitter – @MarketScale
Facebook – facebook.com/marketscale
LinkedIn – linkedin.com/company/marketscale
Latest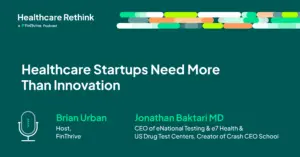 December 11, 2023
Healthcare startups need more than innovation; they require dynamic leaders willing to take these endeavors beyond the ordinary into uncharted waters to generate unparalleled success and lead the industry forward. In the latest episode of The Healthcare Rethink Podcast, host Brian Urban sits down with multifaceted healthcare leader Jonathan Baktari, MD, CEO of eNational […]
Read More