Leaders Driving Change at SXSW: Part One
Learning about and experimenting with new products is what makes attending an event like SXSW an enjoyable and worthwhile endeavor. Hearing specific stories of how these developments have already saved lives and changed the world elevates the SXSW experience from one of intrigue to captivation.
MarketScale conversed with 10 SXSW speakers about their new products and experiences from the past year. From marketing to lifesaving surgery, this year's conference has truly brought together some of the world's foremost innovators in a wide gamut of industries.
Tim Brown and Nigel McAlpine
Augmented reality and 3D printing are often viewed as innovations that can enhance fun. Dr. Tim Brown Consultant Transplant Surgeon at Belfast City Hospital in Northern Ireland and Nigel McAlpine, Immersive Technology lead at Digital Catapult proved these developments can be much more impactful. Lifesaving, in fact.
Hear the story of how these two were involved in saving a young woman's life by using 3D printing and augmented reality to rid a kidney of a tumor so that it could be transplanted into her body before it was too late.
"She didn't have long to go, and it was very unlikely that she was going to get a transplant to save her life," Dr. Brown said of the initial prognosis.
The pair brought to SXSW 2019 an exact replica of the donor's kidney, which was 3D-printed by Axial3D.
"They've done it specially to our specifications, we've asked for a clear kidney and they've marked the tumor for us very clearly and helpfully to show us what we need chop out to make this kidney transplantable," Dr. Brown continued.
Dr. Brown and McAlpine will be part of a panel discussing the procedure on Tuesday, March 12 at 12:30 p.m. CST.
Tatyana Kanzaveli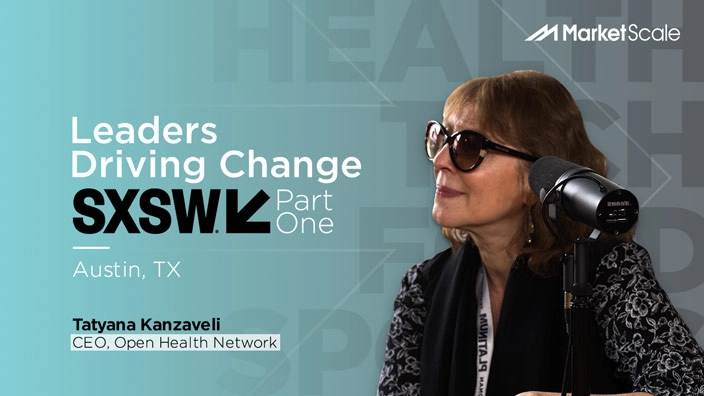 Tatyana Kazaveli, CEO of Open Health Network is also involved in cutting edge technology in the healthcare industry.
She helped explain how blockchain has made tangible impacts in the field and how the public can learn more about its results and move away from unsubstantiated hype.
"In healthcare I see baby steps. Mostly I see initiatives by pharma companies but there are career use cases for providers, insurance companies and pharma and researchers. But they're still baby steps and I'm glad we've developed something that has actually deployed, and it does give a value as is," she said of Open Healthcare and the state of blockchain in the medical world.
She will be elaborating on this topic on Tuesday, March 12 at 11 a.m. but gave MarketScale the lay of the land for blockchain today.
Heather Watson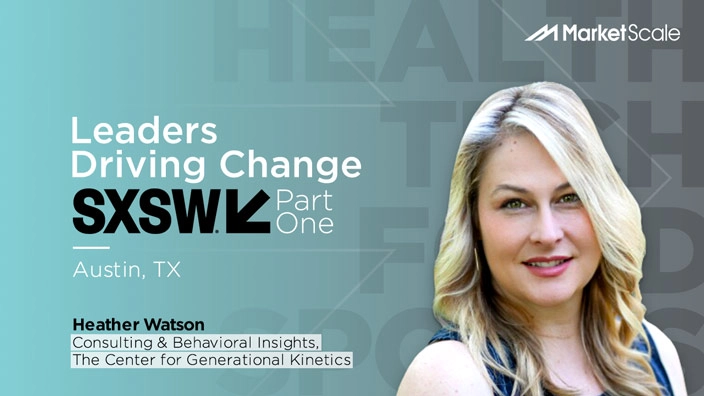 Businesses must know their customer to be successful, but in this digital age, knowing how to find these customers might be more important. With Gen Z beginning to research products and order through social media and ordering products on cell phones and tablets, brands must react.
Heather Watson, behavioral designer for the Center for Generational Kinetics, LLC, has been researching how Gen Z will change the global economy, and what the next wave of workers expects from the job market, working environment and more.
"Their life digitally is as important as their physical life," Watson said of Gen Z.
She explained how parenting, global trends and technology have transformed business and retail, and how the evolution of social media from a platform to a legitimate retail market will continue.
"One third of teenagers, or Gen Z, are on their phones after midnight every night. That is a powerful habit. They are on their phones 6-7 hours a day," Watson said.
These habits are not going away soon, according to Watson, and marketing and advertising must learn to reach their customers in new ways.
Latest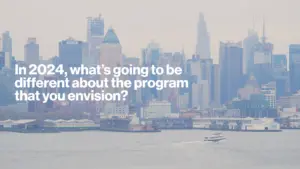 December 1, 2023
In the dynamic telecommunications landscape, Verizon's Partner Network continues to evolve, adapting to new trends and opportunities. For another segment featuring Mark Tina, VP of Indirect Channel Distribution and Channel Chief at Verizon Business Group, he explores exactly what types of significant changes and advancements the Verizon Partner Network will see in 2024. In this […]
Read More