The Great Resignation Takes a Hit at Healthcare's C-suite
Even before the pandemic took center stage on a global level, the U.S. healthcare system struggled with staffing shortages. Couple the exhausting and seemingly impossible challenges of the pandemic with the Great Resignation and you have a crisis situation in the making. In fact, many smaller and remote healthcare facilities are already there.
Kevin Stevenson, host of the I Don't Care podcast dedicated to exploring the challenges faced by healthcare executives and administrators spoke to the fact that the great resignation "has reached many executive levels in healthcare. There has been a number of CEO transitions over just the last few months, and I've heard from a number of recruiters that CEO turnover is really accelerating this year."
According to the U.S. Bureau of Labor Statistics "healthcare is among the top three industries cited in a 3% rise in the monthly 'quits rate'" in November of 2021 with over 52K employees leaving the field (Healthcare Finance). This trend is not likely to end anytime soon. And when it comes to leadership roles in the C-suite, turnover can wreak havoc on operations while negatively impacting patient outcomes (Michael Kelly Associates).
Stevenson spoke about the many reasons for health care professionals (HCPs) leaving the industry including retirement, delayed retirements, and others simply finding opportunities in other industries that better meet their needs. "The issues that we have finding staff across the industry are not just with nurses or frontline employees, it is reaching all the way into the c-suite as well. That's something that's going to be occurring over the next, sounds like the next year or so," states Stevenson.
According to surveys by the AHA, vacancies for nursing personnel rose by 30% and 31% for respiratory therapists between 2019 and 2020 (American Hospital Association). Other statistics include the shocking revelation that data analysis indicates there will be a 3.2 million shortage in HCPs by 2026.
The issue is jeopardizing the ability of health care systems to provide the care needed by the people they serve. Keeping abreast of the situation and building solid relationships with recruiters are the first steps in preparing to fill critical roles when needed.
Latest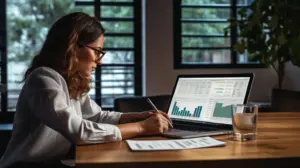 October 4, 2023
The intersection between security and financial acumen often gets overshadowed in a constantly changing economic landscape. While security is essential for safeguarding assets and ensuring continuity, its perceived monetary value is mired in misconceptions affecting company profitability. For many, security is viewed primarily as an expense rather than a potential cost-saver. However, understanding […]
Read More