The M&A Healthcare Insights Podcast: Interview With Haran Narulla
Figuring out where to put your money isn't always easy, but for one man, it's his main job. M&A Healthcare experts and hosts Mike Moran, Co-Founder, Executive Advisor, and Co-Founder Mark Thomas, chatted with Haran Narulla, Managing Partner at Tygon Peak Capital, about the current acquisition market and his everyday strategies.
Moran reflected on building a relationship with Narulla, "The reality of our business model, right, is that we represent sellers…along the way, for better or worse, you build relationships…and those relationships are with buyers."
As a capital investment firm, Tygon Peak has to be specific in its needs. Narulla said, "We basically focus on three different verticals, one is healthcare, the second is mixed manufacturing, and the third is business services."
When assessing an asset for acquisition, Narulla explained that he looks at three key subjects: industry, risks, and quality. Narulla said, "Our number one target industry today is healthcare." This means that in assessing, he looks toward home health, urgent care, and medical practices. Then they rely on relevant facts for the industry to better understand the risks and opportunities in the current market. After which, he will look at the quality of the asset itself, whether it has a large or small market share and what level of experience the management team carries.
As for research, Narulla stated, "There's some sectors where we've done quite a lot of work, and we understand what's going on in those specific segments, and some of the segments we've done less work and so we do a fair amount of work, you know, after."
Given the challenges in the labor market, Narulla stated that finding managers to come and run a business has been more difficult than years previously, although there are certainly still options. He said, "I think you have to provide them with a compelling reason to come work for you." Whether this compulsion is in compensation or project ideas is up to negotiation. In any case, Narulla reflected that Tygon's acquisition strategy has constantly had to adjust to reflect the current market and prepare for future market indexes.
Latest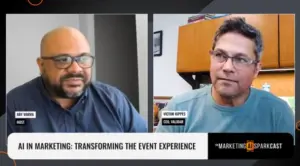 November 28, 2023
AI has been gradually changing the landscape of event technology at a very rapid pace. In an industry where staying ahead of technological trends is crucial, AI's impact on marketing and event management has become increasingly significant. As witnessed in the rise of account-based marketing and enhanced personalization, AI is effectively reshaping how events […]
Read More