The Race for the COVID Vaccine has Reemphasized the Need for a Robust Cold Supply Chain
The wait for the COVID vaccine is coming to an end as multiple pharmaceutical companies have announced effective treatments in recent weeks. The next challenge is the massive distribution of vaccines that require cold storage at extreme temperatures. 
Daniel Litwin, Guest Host and the Voice of B2B was joined by Joseph Battoe to discuss the issue of transporting vaccines that require cold storage on a global scale. 
Battoe is the CEO of Varcode, a technology company that enables pharmaceutical companies to verify product safety throughout the supply chain.
Designing a robust, effective, and efficient supply chain for pharmaceuticals has been an evergreen challenge. Nearly 80% of pharmaceutical products require temperature control.  Products being wasted during transportation is an ongoing issue with billions of dollars lost each year.
This ongoing issue is even more important with the distribution of the COVID-19 vaccine.
"The fastest to develop, but the hardest to deploy," said Battoe when asked if there is added pressure for handling the logistics of transporting the COVID-19 vaccine.  Some of the COVID vaccines require extreme cold temperatures during transportation: minus 70-80 degrees celsius in some cases.  "It's unprecedented speed.  It's unprecedented scale."
Battoe sees the greater challenge being the delivery of lower volumes of vaccines to more remote or rural locations.  That's where Varcode excels in assisting with the logistics on the smaller scale needs where the benefits of bulk orders cannot be realized.
It will take a multitude of products and services to ensure the vaccine is distributed successfully around the world.  Hundreds of companies, including Varcode, will be working together to safely deliver COVID vaccine globally.

Latest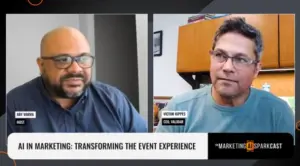 November 28, 2023
AI has been gradually changing the landscape of event technology at a very rapid pace. In an industry where staying ahead of technological trends is crucial, AI's impact on marketing and event management has become increasingly significant. As witnessed in the rise of account-based marketing and enhanced personalization, AI is effectively reshaping how events […]
Read More