The Role of Remote Cardiac Monitoring Technology in Saving Lives
Daniel Litwin was joined by Dr. Waqaas Al-Siddiq, founder and CEO of Biotricity, to talk about effects of the pandemic on healthcare and how his company's remote cardiac monitoring technology saves lives.
Patients have a tendency to visit a doctor when something is going wrong, rather than to prevent something from going wrong, which Dr. Al-Siddiq referred to as "acute" visits versus "preventative" visits. This trend leads to more serious and chronic heart issues, which leads to greater strain on the healthcare system.
"70 cents of every dollar is basically spent right now in the united states healthcare system on chronic patients. 40% of those patients have more than one disease, so it's not just about heart … Of course this all drives to a rising cost," said Dr. Al-Siddiq.
However, with the pandemic has come a greater prominence for tele-medicine, allowing for easier access to doctors and a flattening of state-based regulations. With heart health in particular, monitoring and data is necessary for initial visits, which is something that can be provided by Biotricity's smart devices.
The health insurance landscape, however, is a bit more difficult to wrangle, with its non-standardized definitions of heart health necessities. Dr. Al-Siddiq believes insurance education is key when interacting with customers.
"We understand that real time monitoring is a necessity, we believe it's a necessity and we understand that many insurance providers believe it's a necessity. So when we sell it to customers, we explain to them which insurance providers…Medicare, Medicaid, all these providers believe the same thing, that it's a necessity. And then these few players sitting over here on the left side don't believe it's a necessity, but you can have a dialogue with them. So we try to educate them, it's a big part of the process – educating our customers and having them understand the insurance nuances."
The doctor offered some thoughts on the future of preventative heart health and the importance of active monitoring in saving lives. "I think there's this combination of how we as individuals should feel safe if we know that we're monitored and that data is being transmitted, and that needs to be explained and we need to open that dialogue. And as administrators and as physicians and as clinicians and as medical device companies, we need to say hey, there's a gap in care. Here's the data to prove that this is better, and let's make sure that's communicated and becomes part of the dialogue."
Follow us on social media for the latest updates in B2B!
Twitter – @MarketScale
Facebook – facebook.com/marketscale
LinkedIn – linkedin.com/company/marketscale
Latest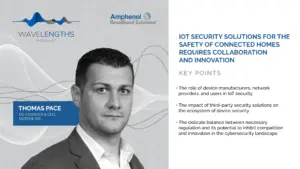 November 28, 2023
Since the introduction of smart devices, the world has increasingly become dominated by interconnected devices but IoT securitydemands are also growing. The "connected home" has shifted from what was once a futuristic concept to reality. With the global smart home market projected to reach $135.3 billion by 2025, the conversation around the security of these […]
Read More