Two Best Friends Working at CHS: Benefits of Travel Nursing, Allied Health Professionals – Successful Staffing Referral Program
Travel nursing was in high demand throughout the majority of the pandemic. During this period, travel nursing became so lucrative many nurses left full-time healthcare positions to become travel nurses. By the end of December 2021, travel-nurse pay average rates were close to $4,000 per week.
Since that peak, travel nursing salaries have stabilized, but experts expect temporary nursing contracts will continue to account for a significant portion of the healthcare labor workforce.
For nurses considering travel nursing and allied health professionals seeking the right healthcare fit, understanding the complete picture of what's involved is critical. Making the proper healthcare recruitment agency selection is paramount to having a good experience and maintaining longevity.
On this episode of the Catapult Healthcare solutions podcast, host Michelle Dawn Mooney got first-hand knowledge of travel nursing with two best friends working with Catapult Healthcare Solutions. Danyal Kelsheimer, a Registered Dialysis Nurse, and Brandy Miller, a Certified Surgical Tech, were joined by Catapult Healthcare Solutions' National Recruiter, Cody Mirander, to discuss the benefits of being a travel nurse and what's involved with the process.
Mooney, Mirander, Kelsheimer, and Miller discuss the following:
Things to know about being a travel nurse and an allied health professional
Benefits of travel nursing
What healthcare institutions look for in the ideal travel nursing candidate
"Over at Catapult, our main thing is building relationships," Mirander said. "We don't care if you end up working for us, or if you end up working with another company. At the end of the day, as long as you're happy, that's what we're looking for."
About Cody 
Cody Mirander is a healthcare recruiter for Catapult Healthcare. He Helps travel nurses find their next job, whether travel, contract, or permanent. Mirander focuses on bringing a positive attitude to the office to make himself better each day.
About Danyal 
Danyal Kelsheimer is a registered nurse with Catapult Healthcare Solutions.
About Brandy
Brandy Miller is a certified surgical technologist with Catapult Healthcare and is skilled in orthopedic, vascular, and open-heart surgery.
Latest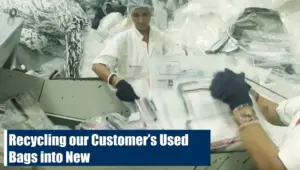 December 6, 2023
This video focuses on EcoLOK4, a groundbreaking product by CONTROLTEK that exemplifies innovation in sustainability. It highlights the process of transforming landfill waste into new deposit bags, with 90% of each bag's material being repurposed trash. This initiative not only reduces waste but also closes the sustainability loop, demonstrating CONTROLTEK's commitment to environmentally friendly […]
Read More