What CarePass From CVS Signals to the Market
In the 1970s, the Veterans Administration (now called the VA) mailed prescription medications to regional customers. This was actually far ahead of the curve. It was not until the 1990s that mail-order pharmacy services were common among the general population.
Until recent years, people had to go to a physical pharmacy location for medications and medical supplies. With the rise of overnight, home-delivery services offering anything from beauty products to groceries, traditional pharmacies are adapting to meet consumer preferences.
Modernizing Pharmacy Delivery Services
CVS Pharmacy, for instance, has expanded its membership and rewards programs by creating the new program CarePass. For $5 a month or $48 annually, CarePass participants can have medications delivered- as well as many other items found in its retail locations. This differs from mail-order prescriptions services, which only sell medications and have no physical retail locations. Other perks, like access to a secure 24/7 helpline, are offered.
This new program by CVS is competitive with home-delivery retail giants like Amazon Prime. For instance, because CVS has physical brick-and-mortar stores across the nation, the program can include perks like free sports physicals and discounts that apply in-person as well as online. Because CVS is also a known and trusted brand even by older generations, it also has a customer base which online-only services may have trouble reaching.
Beyond Pharmacies: The Omni-Channel Retail Trend
Although CVS's new program is unique among pharmacies, many other retailers have joined the store to door trend. Called "omnichannel" retailing, well-known retailers with storefronts are now using social media, their websites, and apps to sell merchandise that can be delivered to customers' homes. Stores are also offering "pick-up" services where customers can place their orders online and pick up the complete order instead of having to browse the physical location themselves.
Programs that utilize multiple channels, as well as mixed shopping and delivery services, are likely to grow as younger generations of consumers embrace them. For example, studies show that Gen Z and Millennial consumers are increasingly comfortable with eCommerce and favor streamlined, convenient shopping experiences.
Examples of Rising Store to Door Programs
Two industries where delivery services are increasing are restaurants and grocery stores. There has been a 20-percent increase in restaurant delivery in the past five years, and even fast-food chains have begun to offer delivery through third-party service providers. Grocery stores and superstores, like Walmart, are also adapting and developing models to meet the new customer-preference for delivery.
Walmart, for instance, is now offering Delivery Unlimited, a service similar to Amazon Prime. For $98 annually or $12.95 a month, consumers can sign up for the program and have Walmart deliver groceries to their front door. Target offers a similar program called Shipt. Other retailers, like Costco and Aldi, partner with a service called Instacart for delivery services.
Currently, consumer habits still show a need for physical store locations. People are still shopping both online and in person. However, retailers who use multiple channels and methods offer customers an experience that seems to be paying off.
Latest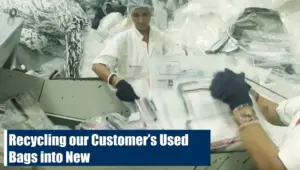 December 6, 2023
This video focuses on EcoLOK4, a groundbreaking product by CONTROLTEK that exemplifies innovation in sustainability. It highlights the process of transforming landfill waste into new deposit bags, with 90% of each bag's material being repurposed trash. This initiative not only reduces waste but also closes the sustainability loop, demonstrating CONTROLTEK's commitment to environmentally friendly […]
Read More