What the Contrast Shortage Means for Hospitals and Patients
American hospitals and healthcare providers are deferring CT scans and related care due to a shortage of iohexol and iodixanol contrast media caused by a COVID-19-related shutdown at a major Shanghai-based manufacturer.
General Electric Co., one of four contrast manufacturers, operates the Shanghai plant that produces the injectable fluid, which physicians use to track various cancers and uncover a myriad of issues, ranging from lung clots to heart blockage. Without it, "we have a real difficulty in performing some of those scans," said Kevin Stevenson, Host of "I Don't Care With Kevin Stevenson."
Without access to this solution, procedures are canceled or placed on hold indefinitely; care is rationed. "That [dye] is used to allow our providers to make a clearer diagnosis," Stevenson said. "Without that availability of contrast, it just inhibits care for everyone."
The shortage is impacting healthcare providers — and patients — in hospital settings. Without access, there is not "an expedient diagnosis because the contrast isn't available for the scan," Stevenson said.
The ongoing COVID-19 pandemic has been a root cause of the contrast shortage — especially in China, where recent mandatory shutdowns halted factory production. Although GE has similar plants in other global locations, the US receives most of its supply from Shanghai, according to Bloomberg.
But, Stevenson said there's hope on the horizon as many Shanghai-based factories have reopened, and the GE plant is starting to ramp up production of the precious commodity. The shortage is expected to last through July, but GE's manufacturing plant is back to 50% production capacity. To expedite the shipping process, the company is flying contrast from its Shanghai- and Ireland-based plants.
In the meantime, the American Hospital Association (AHA) has asked GE to allocate available supplies to medical facilities treating the most urgent patients. "We believe hospitals that are designated stroke centers, major heart care centers and oncology centers, or those that simply have very active emergency departments should receive special consideration from GE as it chooses how to distribute the product it has available," AHA stated in a May 16 letter.
Latest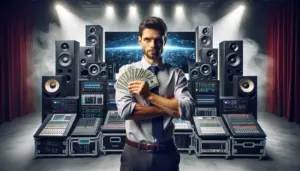 December 8, 2023
Mastering AV sales strategies in a global professional audio-visual (Pro AV) market, poised to reach $79.2 billion by 2028, requires much attention to detail. The surge in demand from corporate, government, and institutional sectors, driven by the need for enhanced productivity and efficient working environments, gives AV sales pros a lot of opportunity. In […]
Read More