With Patients Accessing Their Own Electronic Health Records, How Can Care Orgs Handle Patient Data Safely & Securely?
Last year, the 21st Century Cures Act changed how patients could access their health data. The new rule, aimed to prevent information blocking of all electronic health information (EHI), gave patients the power to use, access, and share all of their health information. By empowering patients to access their own electronic health records and overall health data, the act sought to drive further innovation and research and facilitate the exchange of important health data. However, this has made it important for healthcare practitioners to handle electronic health information safely and securely.
To ensure minimum roadblocks in the exchange of electronic health information, the new rule has banned healthcare practitioners from blocking patients from accessing their medical information — or choosing to share it with third parties that they themselves have approved. However, experts believe that sharing access to such comprehensive electronic health records needs to be done in a safe and secure manner.
Bart Howe, who serves as the President of AHIOS, which provides training to handle patient information appropriately, explained why health practitioners must handle electronic health information safely and securely during the five-day premier health conference HIMSS 2023.
Bart's Thoughts
"For the rest of this year and beyond, I expect we'll continue to see a lot of change. That'll be the one constant throughout the evolution of our industry. Technology's changing, regulations are changing, and our organizations are typically — the ones that we service — are typically focused on serving the patients, which is where we want them focused. Whereas AHIOS and our member organizations need to make sure that we are equipping them with both the tools, the technology, the processes and the people, in order to facilitate the exchange of information that's important to delivering the highest quality care at the right location, at the right time.
One of the things that we are learning as an industry, kind of the hard way, is that the information that resides within the healthcare ecosystem is the property of the patients. So getting that information into the hands of the patients is easier said than done. That's one of the things that our member organizations do all day every day, is deliver medical records to individuals and other participants within the ecosystem who have the rights to access that information. And one of the challenges that we have is making sure that we are navigating both access and privacy. Those are two very important concerns. We wanna make sure we're delivering access where we can, and where it's important in facilitating ease of information exchange, while also making sure that we're protecting that information and creating the right privacy and safeguards around who gets access to that information."
Article written by Aarushi Maheshwari.
Latest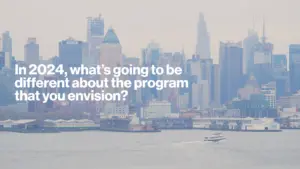 December 1, 2023
In the dynamic telecommunications landscape, Verizon's Partner Network continues to evolve, adapting to new trends and opportunities. For another segment featuring Mark Tina, VP of Indirect Channel Distribution and Channel Chief at Verizon Business Group, he explores exactly what types of significant changes and advancements the Verizon Partner Network will see in 2024. In this […]
Read More