Coaching Hospitality Leaders to Develop Sustainable Energy
Driven by consumer desires for new experiences, innovative technologies and environmental impacts – travel is changing. Host Sarah Dandashy explores the technologies and logistics that power travel and the brands that build unforgettable experiences.
Being a leader in any industry is challenging. It can be even more so in the hospitality sector because of the pressure to take care of guests and employees. With lots of pivots in the past two years, many hospitality leaders are seeking change and looking for it through professional development. Discussing the topic today, Say Yes to Travel host Sarah Dandashy chatted with hospitality coach and consultant Chelsea Cox Gillman of Tess Cox & Associates.
Gillman's hospitality journey began in college, working in a restaurant. After graduation, she spent years opening and managing hotels in Beverly Hills, Los Angeles, and New York City.
Now she's a full-time leadership coach. "I focus on leadership development and building sustainable energy in the workplace. We like to say we support from the inside out."
Gillman noted that much changed in the industry. Since the pandemic, she has sought to be a "safe place to process experiences and encourage those 1% marginal gains."
Putting what they learn into action is, of course, the only way to achieve meaningful outcomes. For the future, Gillman shared, "Hotels should continue to invest in their employees. It enriches the future of the business and improves the customer experience."
While burnout is a theme in the industry, Gillman's advice is to "prioritize self-care, even if it's little things throughout the day." Thinking of it in this way simplifies the concept of self-care and recharges hospitality leaders to manage with sustainable energy.
More Stories Like This:
For The Love of Travel Is Trying to Change How You Travel
Leadership in the Hospitality Space and Importance of a Social Media Community
Latest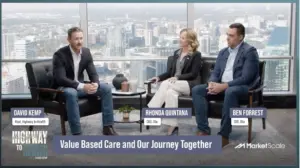 December 7, 2023
As of recent times, the healthcare industry has been progressively shifting towards value-based care, a model that emphasizes patient outcomes over the quantity of services delivered. This transition represents a significant shift that promises to enhance patient experiences and outcomes while controlling healthcare costs. With a growing emphasis on this approach, especially over the […]
Read More