Leadership in the Hospitality Space and Importance of a Social Media Community
Driven by consumer desires for new experiences, innovative technologies and environmental impacts – travel is changing. Host Sarah Dandashy explores the technologies and logistics that power travel and the brands that build unforgettable experiences.
With so much change in the hospitality industry, many stakeholders are seeking new ideas, inspiration, and solving challenges. Hotel owner, operator and investor Rupesh Patel joined Say Yes to Travel host Sarah Dandashy to discuss his career and what he's doing now as an industry advocate, social media community builder, and host of Hospitality Live with Rupesh.
Patel literally grew up in hotels when his father purchased one in South Florida. He wasn't always on the hospitality path, studying multi-media design. Eventually, he merged his passions to a successful career. "I like bringing ideas from other industries to new ones and doing things that are unique," he added.
"I like bringing ideas from other industries to new ones and doing things that are unique." – Rupesh Patel
Because of Patel's love for hospitality, he built a strong following on LinkedIn. "I just wanted to share my passion, show value, and bring ideas on operations, marketing, and customer service," he said.
Once the pandemic hit, Patel pivoted from being a speaker and consultant in-person to putting that into his LinkedIn postings and show. "I wanted to inspire people while they were down. I was seeing my employees and others struggle, so it was about staying positive."
Patel also recognized the shift in the hotel business that will outlast the pandemic. "The entire guest experience is changing because of technology. I was able to direct message my hotel on my flight here to see if I could check in early, and I wouldn't have been able to do that a few years ago."
Additionally, Patel discussed the adoption and acceleration of technology in every facet of hotel operations and the power of data. "We're collecting data about who is there, what they're buying, and what they're doing to improve experiences."
Follow us on social media for the latest updates in B2B!
Twitter – @MarketScale
Facebook – facebook.com/marketscale
LinkedIn – linkedin.com/company/marketscale
Latest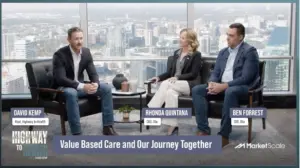 December 7, 2023
As of recent times, the healthcare industry has been progressively shifting towards value-based care, a model that emphasizes patient outcomes over the quantity of services delivered. This transition represents a significant shift that promises to enhance patient experiences and outcomes while controlling healthcare costs. With a growing emphasis on this approach, especially over the […]
Read More