Concierges Around the World: The Moss Hotel in Moscow
Powered by RedCircle
As Americans, we only hear limited information on how the pandemic is affecting the rest of the world. We see numbers in the news. And some places don't even appear in the news all that much–Russia, for example.
"What has been so interesting about the pandemic is that has removed us from our borders."
Anna Endrihovskaia, a Les Clefs d'Or Concierge and Chef Concierge at the Moss Hotel in Moscow, shared on our recent talk. And she is right.
A long time friend through my concierge network, I was really eager to speak with Anna about her experience through the COVID-19 pandemic. Interestingly enough, there were parts of it that were very similar to our experience here in the United States. For one, as soon as the pandemic hit, the stores were all out of toilet paper.
More than that, as the Pandemic took over Russia, their "lockdown" seemed to happen overnight–around March 28th. The rules were far more strict than in the United States. They were only allowed to leave their homes twice within a week and had to fill out a form for a pass.
Times have been tough. A consummate professional, Anna always held an optimistic viewpoint. She used this time to spend with her family, but also shift into a more structured way of living.
All too often, hospitality professionals live a life based off of requests. Guest requests guide the day. Now, at a time when there are no guests, Ann learned to shift to a schedule that she made.
And in that she found appreciation for this "pause." Although, on the day of this interview, it was her first day back at her hotel. Unique to hear situation is that she is coming to work and not getting paid currently. In her case, she will have to work until her hotel starts generating money again to then pay her. They've chosen to pay certain employees, and managers are taking a pause from making money. It truly shows that hospitality runs in her soul.
The Moss Hotel in Moscow is Russia's first boutique hotel. Being a boutique hotel they have really been able to make some bold and unique choices, from their decor to their guest programming. And guests have really enjoyed it. One of their most recent endeavors has been creating short videos cooking with the chefs as well as sharing a brief history of boutique hotels while weaving in the Moss Hotel story.
Her advice to concierge and hospitality professionals during this time: take ownership of your hotel and get creative when it comes to designing new experiences.
Now is such a time for hotels to think outside of the box, and those that are doing so will come out of this pandemic as real winners. Of course, there will be no replacement for human connection. That above all will trump everything–even if we just have to get creative in how we make those connections.
How to connect with the Moss Hotel
Latest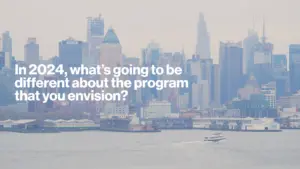 December 1, 2023
In the dynamic telecommunications landscape, Verizon's Partner Network continues to evolve, adapting to new trends and opportunities. For another segment featuring Mark Tina, VP of Indirect Channel Distribution and Channel Chief at Verizon Business Group, he explores exactly what types of significant changes and advancements the Verizon Partner Network will see in 2024. In this […]
Read More