Easing Burnout for Hospitality Employees by Prioritizing Self-Care
Driven by consumer desires for new experiences, innovative technologies, and environmental impacts – travel is changing. Host Sarah Dandashy explores the technologies that power travel and the brands that build unforgettable experiences.
Say Yes to Travel goes inside the world of hospitality, offering different voices and stories across the industry. While topics often focus on the traveler, subjects specific to those in the field have great importance. Host Sarah Dandashy chatted with Evan Kharrazi, founder of Kharrazi Natural Health, a health coaching service for overworked hospitality professionals.
Kharrazi has an interesting background as both a dancer and a hotel operations expert. He started this new journey last year after losing his hotel revenue manager job due to the pandemic. "I was depleted and went to Israel to reconnect. I found my purpose to help others who put others first," he said.
Kharrazi's intent is to help hospitality workers prioritize self-care through his programs. He also wants to help their employers. "I want to help hotels take this on, so they can bring back staff to be in a headspace and physical space to deliver authentic service."
Kharrazi offered some tips on integrating self-care, including making it a habit, setting small achievable goals, and finding activities that people are passionate about. He also touched on the areas of nutrition, talking about the Integrative nutrition circle of life. "You're looking at the full picture of what nourishes you, both off the plate and what you actually eat."
Kharrazi shared that he'll be releasing a new app soon for self-care that includes everything from guided meditation to dance. For hospitality professionals, he wants to make self-care an easy, accessible process for all.
Follow us on social media for the latest updates in B2B!
Twitter – @MarketScale
Facebook – facebook.com/marketscale
LinkedIn – linkedin.com/company/marketscale
Latest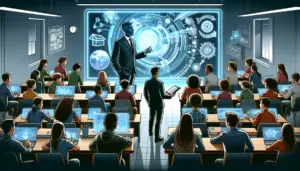 November 27, 2023
In an era where education stands at the crossroads of tradition and innovation, the potential value of thought leadership becomes the guiding star for progress. "Just Thinking" dives into this potential with host Kevin Dougherty and guest Evan Edwards, a Professional Learning Specialist at 806 Technologies who exemplifies the transformative impact of visionary guidance […]
Read More