Expedia CEO Peter Kern Predicts a Rise in Domestic Travel This Year
Expedia Group CEO Peter Kern discusses business amid the pandemic and his expectations on the travel industry as more people get vaccinated. Kern spoke in an interview with Bloomberg's Kailey Leinz and Guy Johnson.
Transcript
Kern: We mentioned in our earnings that we're starting to see some better numbers in January, and I think that's a reflection of essentially consumer confidence, people's belief that they will be able to be vaccinated. They can plan ahead and get to their summer vacation or their fall vacation. We're even seeing, you know, the holidays of next year, this coming year at Christmastime, be a little up over historic period. So I think people are starting to plan out ways. But they it's really it's vaccine. It's also consumer confidence in the vaccine coming. So I don't think it's necessarily shots in arms as much as people's belief that they will get their shots in there arms. And so I think we're starting to see that unfold. Now, it's not that so many people have been vaccinated. I think to drive the numbers for us, I think it's really more an expectation that it will be possible in the coming months. And therefore they will be able to go places come this spring, summer, fall, and that's what we're starting to see.
Host: How broad is that trend, though, Peter? Is that mostly focused on domestic travel? Are you seeing it yet for the long haul?
Kern: No, it's definitely it's a good question. It's definitely domestic. I think people are still not sure what it's going to take to go international and what they'll have to do and what will be allowed. And, you know, and again, there's a fear of, OK, I love going, let's say, an American who loves going to Europe in the summer. What will I be able to do there? Will I have to wear a mask? Will restaurants be open, et cetera? So I think there's still a lot of unknowns. And that's why I say I think it's got more to do with people's confidence in what they'll experience than it does with whether they can go. And so I think, yes, it's still highly, highly domestic. Now, the industry can rebound considerably from where it is while still being mostly domestic. So I don't think it's that we're stuck here until international comes back. It's just a question of when does international come back? And everything is really fully open and that, you know, we're all looking forward to that too.
"I think people are still not sure what it's going to take to go international and what they'll have to do and what will be allowed."

– Peter Kern
Host: What are you seeing in Europe, Peter, more specifically? Clearly, it looks like it's going to be difficult for Americans to fly [to Europe], but within Europe, what is the picture?
Kern: Yeah, well, as you just remarked in your stats on lockdowns, Europe recently has been much more locked down. The us for a variety of reasons, has been less controlled. And so what we're seeing in Europe is these lockdowns, which tend to be quite severe. And quite serious. They really limit, obviously travel. But as they open, we're seeing many of the same trends we see in other places in the world. People are doing more alternative accommodation rentals in our verbal brands and other alternative accommodation opportunities. They're doing it more locally, drive to rather than fly. And and so it's basically the same phenomenon. The borders are a little closer together, but it's the same phenomenon when they come across borders. They certainly do. But again, it's a lot of driving. It's a lot of, you know, what we would call near travel as opposed to perhaps domestic, but not as many people flying clearly and a lot more rules around it. So so we're seeing pretty much the same trends. Just the countries are smaller and the borders are closer.
*Bloomberg contributed to this content
—
Follow us on social media for the latest updates in B2B!
Twitter – @MarketScale
Facebook – facebook.com/marketscale
LinkedIn – linkedin.com/company/marketscale
Latest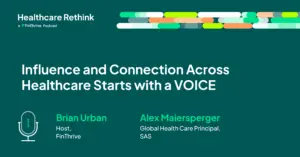 September 29, 2023
In the latest episode of the Healthcare Rethink podcast, presented by FinThrive, host Brian Urban sits down with Alex Maiersperger, the Global Principal Healthcare at SAS. Their conversation charts the role voice plays in influencing and connecting the healthcare industry. Maiersperger, who co-founded the Advancement League, shares his journey from being a healthcare optimist to […]
Read More