Giving a Voice to Boutique Hotels
If you are in the world of boutique hotels, you know Frances and Ariela Kiradjian, the dynamic mother-daughter duo behind the Boutique & Lifestyle Leaders Association (BLLA) and Stay Boutique. Frances, with over 25 years of hospitality and travel experience, created BLLA to help give a voice to independent, upscale hotel properties and offer them resources to be able to level the playing field with larger hotel chains.
When others questioned the longevity of the boutique hotel trend, Frances trusted her instincts and committed, believing boutique hotels to be not only a place to stay, but a lifestyle.
Ariela witnessed first hand all the impressive work her mother was doing in the hospitality and boutique hotel space. Ariela has an incredible passion for the industry—and the two, working together, have made impressive strides in the boutique hotel industry.
Naturally, with the pandemic, the hotel industry took a big hit. Some of the most impacted were boutique hotels. In an effort to support, Frances and Ariela launched the #BoutiqueStrong campaign to lead the boutique travel industry forward. They worked to create tools for boutique hotels, offering an official reopening guide and even financial resources. For reference on the scale of their impact, they have a network of over 2,500 boutique businesses globally.
Known for hosting well-attended conferences and events in a typical year, the pandemic required the duo to rethink their usual approach. BLLA also concluded its first digital summit this year, which was a success, including sessions with Ian Schrager, Arianna Huffington, the U.S. Travel Association and many others. The feedback was overwhelmingly positive.
Without a doubt, Frances and Ariela are leaders in the boutique movement. Their goal is to create the most inclusive industry in the world. Providing a number of outlets, resources and, most importantly, a community, Frances and Ariela are true beacons of the industry.
Latest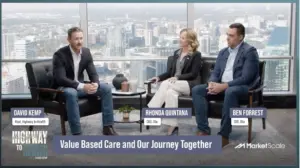 December 7, 2023
As of recent times, the healthcare industry has been progressively shifting towards value-based care, a model that emphasizes patient outcomes over the quantity of services delivered. This transition represents a significant shift that promises to enhance patient experiences and outcomes while controlling healthcare costs. With a growing emphasis on this approach, especially over the […]
Read More