How A Hotel Chain is Bridging the Gap Between Tech and Service
On this episode of Say Yes to Travel, host Sarah Dandashy sat down with Will Seggos, Technology and Digital Strategy Director for View Hotels and noted hospitality consultant.
Seggos joined the team at View Hotels last year, bringing a fresh perspective and a long history in working in technology to the start of a rebrand. His strong tech background inspired him to initiate a number of other changes within the portfolio, as well.
View Hotels is a small boutique hotel chain with three properties in Australia, located in Sydney, Melbourne and Brisbane. All properties are known for their views, hence the aptly named company. Previously popular with more corporate and business travelers, since the pandemic, they have seen a significant shift toward attracting more leisure travelers.
But, more than this shift, Seggos worked with the team to make some big shifts to their marketing strategies. Maximizing their use of Revinate, they were able to increase their direct bookings significantly, becoming somewhat of the poster child of success for Revinate.
With years of working at Yelp under his belt as well as consulting for a few Airbnb properties, Seggos had a unique perspective on how to really maximize the use of technology and bridge the gap between tech and service—an area many hotels have struggled in for years.
However, you can put in place new technological efforts, but success is derived from buy-in and execution among the people using them. And that is something that Seggos has also been able to achieve, helping the company enhance technology while still keeping the human element that is so essential to hospitality.
In a fun response to Qantas' "Flights to Nowhere," which have been popular and are gaining a bit of buzz in Australia, the company is launching a new package called "Flights to Somewhere." These packages tie in a seaplane experience that truly gets local travelers to do something completely different.
Seggos believes that companies should take chances on individuals who might have non-traditional backgrounds. In the case of View Hotels, they took a chance on him, as well as Margaret Huerta, the Creative Director for View Hotels with a background in fashion. The result? Fresh ideas and new perspectives that the company has really been able to capitalize on, even during a pandemic.
For those looking to connect with Seggos, find him on LinkedIn. For more on View Hotels, check their site.

Latest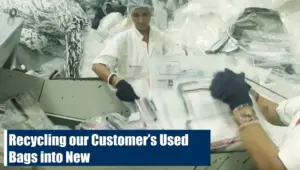 December 6, 2023
This video focuses on EcoLOK4, a groundbreaking product by CONTROLTEK that exemplifies innovation in sustainability. It highlights the process of transforming landfill waste into new deposit bags, with 90% of each bag's material being repurposed trash. This initiative not only reduces waste but also closes the sustainability loop, demonstrating CONTROLTEK's commitment to environmentally friendly […]
Read More