Is the Future of the Hotel Industry in the Hands of Luxury Leisure Travelers?
Driven by consumer desires for new experiences, innovative technologies and environmental impacts – travel is changing. Host Sarah Dandashy explores the technologies and logistics that power travel and the brands that build unforgettable experiences.
Today's episode is a "can't be missed" for hoteliers. Chris Hartley, CEO of the Global Hotel Alliance (GHA), shared not only the organization's backstory, but provided a deep dive into the role independent hotels play in travel, future travel trends, and the importance of loyalty programs.
The Global Hotel Alliance (GHA) is a non-profit organization that was established in 2004 with just four brands. Since that time, they've grown to represent over 35 independently- and privately-owned brands. Like much of the world these days, GHA member properties have been undeniably impacted by the pandemic. In response, the GHA has shifted gears with much of what they've focused on during 2020 aimed at COVID-recovery preparation.
It's interesting to note, though, that as the world comes out of the pandemic, independent hotels are finding themselves in a surprisingly opportune position. Travelers in the new normal are seeking properties that are more unique than the traditional hospitality offering. To understand why, it's important to take a look at the two segments of travel—business and leisure.
Historically, business travel dominated the industry; thus, most hoteliers concentrated primarily on appealing to those traveling for work. But with the rise of the experience concept as well as an escalation in luxury leisure travel over the years, hospitality models have had to evolve in pace, a shift that has only accelerated with the pandemic. As we move forward and more travelers search out those "unique experiences", it's predicted that luxury leisure will be the industry's driving force, with independent hotel brands the more attractive alternative to their large hotel counterparts.
Further, due to 20 years of commoditization, falling rates, and companies opting for mid-market hotels over luxury properties in an effort to reduce costs, the business travel sector was already in decline, signaling an end to the era of corporately-funded mass business travel. But when paired with the travel restrictions brought on by COVID-19 and the accelerated adoption of the remote workspace—a trend that is expected to remain a permanent fixture as we move into 2021 and beyond—it's unlikely that business travel will ever return to pre-pandemic levels.
However, with individual leisure travel now accounting for nearly 60% of the GHA's premium "cross-brand" business—an elite traveler base that spent more than $500 million in their 600 hotels in 2019 alone—looking forward, Chris is certain that the leisure segment will continue to experience exponential growth within the hospitality industry, particularly for those properties that offer returning guests rewards for their continuing loyalty.
Ahead of his time in understanding the importance of loyalty and rewards programs, back in 2010, Chris launched the GHA's DISCOVERY Program. Empowering individual independent hotels with a guest loyalty program, DISCOVERY enabled these properties to compete with the rewards programs of the big hotel conglomerates. But what made the DISCOVERY program even more remarkable is that it was created well before the 2015-2016 "experience" push of other brands, with points that were not only redeemable for guest visits, but also, for activities during the guest's stay. Today, GHA brings together 35 diverse brands under one dynamic platform, offering memory-making experiences within their exclusive DISCOVERY loyalty program.
For those looking to find out more about the Global Hotel Alliance and their DISCOVERY program, head to their site for more.
Follow us on social media for the latest updates in B2B!
Twitter – @MarketScale
Facebook – facebook.com/marketscale
LinkedIn – linkedin.com/company/marketscale
Latest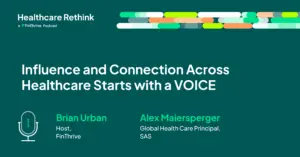 September 29, 2023
In the latest episode of the Healthcare Rethink podcast, presented by FinThrive, host Brian Urban sits down with Alex Maiersperger, the Global Principal Healthcare at SAS. Their conversation charts the role voice plays in influencing and connecting the healthcare industry. Maiersperger, who co-founded the Advancement League, shares his journey from being a healthcare optimist to […]
Read More