Leisure Travel Will Drive Hotel Growth for 2023

Business Travel News recently reported on PwC's Hospitality Directions report, indicating a reduced 2023 travel forecast. PwC largely sites economic uncertainty for the revised projections, arguing that strengthening economic headwinds will translate to consumers opting to save travel funds that they might otherwise invest in hotels for vacations in late Q4 and Q1'23.
That said, it appears this reduction should only marginally impact an already positive outlook, as "ADR in 2023 is forecast to rise 4.5 percent year over year to $155.81." James Ferrara, President of InteleTravel, is highly optimistic that hotels will benefit in 2023 from increased leisure travel, perhaps instead of the traditional business travel demand that has bastioned hospitality in the past.
James' Thoughts:
"In the projection and analysis game, I'm on the bullish side with the hotel sector. There has been a lot of research, focus, right? Came up with one view, but there are other views and I tend to think the hotel sector is being floated by this prioritization of leisure travel. Yes, the corporate markets are returning and that's part of the story.
But the bigger story is the new prioritization of leisure travel by consumers. And we are looking at record occupancies, record revenue per room night for hotels, and it's being driven by leisure demand."
Latest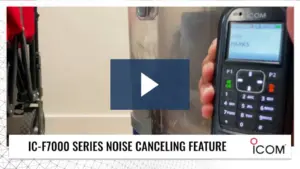 September 27, 2023
In this brief product demonstration video, ICom's IC-F7000 Series receives a mic test of its noise-canceling feature. Through the two demonstrations it is clear the IC-F7000 removes loud ambient noise for clear two-way communication.
Read More