Office Hours With Michael McCall: How Hospitality Businesses Can Win the Summer
Welcome to Office Hours, where current issues facing hospitality professionals will be discussed and potential solutions pursued. My name is Michael McCall and I am the NAMA Endowed Professor of Hospitality Business at Michigan State University.
My primary areas of expertise lie in customer loyalty and reward programs. Over the next few months, I will be discussing issues that we are thinking about in the ever-expanding field of hospitality; these might include topics related to guest security, loyalty and revenue management and other areas related to consumer lifetime value. Notably, I will be commenting on those issues that are keeping hospitality executives up at night.
Summer Success
Welcome! In our ongoing series of discussions, we have discussed a number of consumer principles and "drivers" of consumer behavior. During summer, I think it's fitting to sort out the myriad vacation choices consumers face this time of year.
Notably, I would like to consider the kinds of things that hospitality firms might do to encourage consumers to choose their property or activity. For many firms, much of their annual revenue can come from these summer months in the form of seasonal activity.
So, what might consumers be looking for? This can only be answered by (a) understanding how consumers make decisions, and (b) knowing what your firm offers them.
To begin with, unlike many traditional marketing decisions, consumers are not often looking for the same kinds of information that might be used in making a major purchase or even buying a house. For most types of consumptive decisions, the well-known traditional decision-making model can often help.
The model is rational, and logical and assumes that consumers move through a series of steps that begin with a problem or need awareness, followed by a search and consolidation of alternatives and ultimately a choice is made. The success or failure of that outcome is then evaluated. Leisure decisions are for the most part entirely different, where logic and rationale are not always the primary driver.
The Business of Emotion
The leisure decision model, often called an experiential approach, assumes that while consumers still seek to make an efficient and correct decision, the outcome is experiential. That is, they want to "experience" something, and it has emotional appeal. While thrill sports and other related activities might seem obvious, this same approach is often applied to simple trips like weekend or holiday getaways. A trip to the shore, a cruise, beach vacation or a weekend trip to Las Vegas can all be seen as attempts to experience an emotion or sense of fun and relaxation.
Firms that offer experiential components must have a keen understanding of why consumers would select their offerings over a competitor.
Consumers choose leisure travel for different reasons than business travel. The travel options available to consumers have increased exponentially in recent years.  The critical caveat here is that while business travel continues, leisure travel is tied more closely to current economic conditions. When economic conditions dip or deteriorate, the hospitality industry is among the first and hardest hit as consumers scale back.
What is the prescription?
This goes back to the consumer: who are they and what do they want. A fuller understanding of this concept can help firms both attract and keep clientele. Emphasize the "emotion" that consumers seek. Much in the manner that casinos want consumers to think about the overall entertainment experience rather than the statistical probabilities of winning gaming options, firms should focus on the affective or emotional outcome whether it is the thrill of kayaking or the relaxation of a beach or spa.
Some hotels that are primary targets for weekly business travel can emphasize the value in extending the business travel to include a "weekend" in the city. In addition to accommodation and room attributes, hotels might also emphasize and draw attention to those activities available for enjoyment during their stay. A recent finding seems to lend support to this suggestion when noting that although hotel fitness facilities often go unused, having this option available for guests favorably influences their decision to stay there. When doing this, firms are then able to better customize product offerings in accordance with consumer desires.
Information in the New Age
Customers are going to become more engaged when firms have a better understanding of precisely what customer segments are seeking; what we consider here is making certain that the experiential component of the choice is also made clear.
The key in this information age is knowing your customers and giving them the tools that help them select you.  I wish you all well in your search for that ideal summer getaway!
For the latest news, videos, and podcasts in the Hospitality Industry, be sure to subscribe to our industry publication.
For the latest in hospitality news, head to our industry page! You can also follow us on Twitter @HospitalityMKSL for up-to-the-minute updates! Join the conversation in our Market Leaders LinkedIn group!
Latest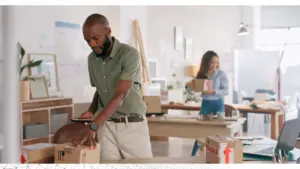 November 29, 2023
While the logistics industry often gravitates toward cutting-edge technology, Wesley Boyce, an Assistant Professor of Practice in Supply Chain Management and Analytics at the University of Nebraska-Lincoln, brings to light the enduring significance of radio communication. In a world enthralled by digital innovation, he argues that the simplicity of radios could be their greatest […]
Read More