Projecting the Hospitality Industry's Road to Recovery
We all know that coronavirus pandemic devastated the hospitality industry this past year, but what is its projection for 2021?
It's not off to a great start. The travel and tourism sector took a massive hit with persistent lockdowns and travel restrictions in key markets like the US, the UK, China, and South Korea. Hospitality Net reported that just 57 deals were announced last month. That's a 29.6% decrease from December 2020 with over 81 deals according to recent analysis from GlobalData.
After 10 years of job growth, the Leisure & Hospitality industry is has the hardest path to recover from. The latest Department of Labor national jobs report reveals it makes up 39% of all U.S. Unemployment, tripling the amount of the second largest share as government jobs take up 13%. CEO of the American Hotel and Lodging Association, Chip Rogers, discussed that road to recovery on Yahoo Finance. Rogers does not expect job growth until the second half of the year "2019 employment levels will return sometime in late 2023, if not early 2024″ as leisure travel continues to come back followed by business travel.
Rogers and other industry leaders have embraced the Biden Administration to help accelerate travel recovery. The U.S. Travel Association engaged the administration with relief priorities to restore more jobs. Although payroll support has helped, JetBlue CEO, Robin Hayes, shared on Bloomberg Quicktake that the main focus should be on rolling out the vaccine. "The long-term solution to bring…the whole travel industry back to health is to get people comfortable flying again," Hayes says, "that's going to require a much larger number of people vaccinated before we start to see that in a significant way."
Follow us on social media for the latest updates in B2B!
Twitter – @MarketScale
Facebook – facebook.com/marketscale
LinkedIn – linkedin.com/company/marketscale
Latest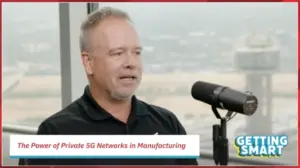 September 25, 2023
The Convergence of 5G and Automation in Manufacturing: A New Industrial Revolution The manufacturing industry stands at an inflection point. Advances in 5G technology and automation are coming together to transform the way products are made, and the role that humans and machines play in this process. Per Treven, Director of Business Development at Ericsson, […]
Read More