Say Yes To Travel: Redefining Luxury Travel
For those looking for a luxury travel experience, what has changed over the past 5 to 10 years? Say Yes to Travel's host and expert, Sarah Dandashy weighed in on what's changed with luxury travel, and why the changes excite her.
"When thinking about luxury, especially luxury hospitality, a lot has changed," said Dandashy. "It has changed immensely. And I think for the better. People are now looking for different things out of luxury travel."
As to what specific things people are looking for, Dandashy mentioned the experiences people seek out are now geared towards meaning and uniqueness over luxury at any cost. Even the way people receive their experience is different, with technology playing a role in everything from how dinner reservations are made, to matching up a travel client's preferences with new experiences. "There is always going to be an element of someone looking for that 'Lifestyles of the Rich and Famous' travel experience," Dandashy said, "But today, for most luxury travelers, it's so much more than that. It's about finding meaning in those experiences."
Get more tips and great information from Sarah Dandashy by subscribing to the podcast and catch all of the episodes of Say Yes to Travel.
Latest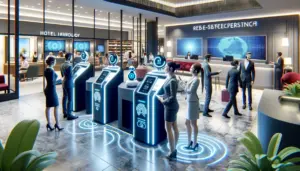 December 8, 2023
Facing critical staffing shortages, over 80% of hotels struggle to fill positions despite offering higher wages and flexible hours, as reported by a recent American Hotel & Lodging Association survey. While slightly improved since May 2022, this situation highlights a significant challenge in the hospitality industry, with housekeeping roles being the most urgently needed. […]
Read More