Should Airlines Be Planning for a Future with "Half the Business Travel"
Few industries have felt the effects of the COVID-19 pandemic as acutely as the airlines. A continuing concern for these companies is the evolving nature of work. As many businesses have adjusted to using Zoom or Microsoft Teams for remote meetings, the emphasis being placed on business travel has been dramatically reduced. For more context, MarketScale sourced the thoughts of Melanie Musson, travel insurance expert with Clearsurance.com. Her thoughts are outlined below.
Business travel came to a standstill when the COVID-19 pandemic first hit the U.S. Airlines canceled flights; travelers canceled flights; no one was going anywhere. Slowly, as 2020 progressed, airline travel began to pick up again for leisure travelers, but business travel didn't recover at the same rate.
Some experts predict that business travel will make a full recovery by 2025. I don't believe that it will. The pandemic has changed the way Americans work. Before the pandemic, employees often had to fight to have the option of working from home. Then, March 2020 hit, and those same employees and millions more were forced to work from home.
Now, as offices open back up, many companies are leaving the decision to work from home or in the office up to the employee. Amazon, for example, has released that they will allow employees to work from home indefinitely.
If people aren't commuting to work, it's going to be a hard sell to get them to fly to business meetings. Companies have realized that they can accomplish similar results through remote meetings in many cases, so they're not going to be eager to start paying for airline travel.
Business travel will certainly pick up from where it is now, but airlines should certainly prepare to shift their focus from business travelers to leisure travelers.
They have already demonstrated their shifting focus by moving their planes around. The new, big planes that used to fly in and out of major cities are not being used to fly to recreational hotspots, while the smaller, older planes are being used more to transport people into and out of the cities.
Airlines must cater to their clientele, and it's not the same as it was two years ago. The airlines that do shift to recreationally-focused travelers will be rewarded for their efforts with loyal return customers, similar to how they built loyal business customers.
Melanie Musson is a travel insurance expert with Clearsurance.com.
More Stories Like This:
Latest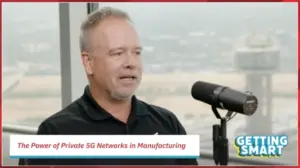 September 25, 2023
The Convergence of 5G and Automation in Manufacturing: A New Industrial Revolution The manufacturing industry stands at an inflection point. Advances in 5G technology and automation are coming together to transform the way products are made, and the role that humans and machines play in this process. Per Treven, Director of Business Development at Ericsson, […]
Read More