Strategies for Reopening Gyms In A Hybridized Fitness Landscape
The COVID-19 pandemic impacted many industries, but the fitness industry might have got it the worst. Though many gyms pivoted to online classes and lessons, the impact of losing in-person workouts might reverberate for some time. But, as the economy starts to reopen, what are some of the things fitness brands did right and wrong during the pandemic? And, what are they doing to make sure they open up strong?
Voice of B2B, Daniel Litwin talked with Josh York, Founder and CEO of GYMGUYZ, which delivers on-demand, in-home & on-site personal training and customized workouts serving 250 locations & territories internationally, including in the United States, United Kingdom, and Canada, on Marketscale TV. Also joining in on the conversation is Adam Sedlack, former President & current CEO of UFC GYM, an extension of the UFC, offering MMA-inspired fitness & training programs, with 150 locations throughout 37 countries with over 800 locations in development globally.
The trio talked about strategies for this new fitness reality and what did and didn't work during the pandemic.
"Life has changed," Sedlack said. "When you look at the businesses that were able to survive and prosper, like Josh and GYMGUYZ and UFC GYM, there are some things that resonate." He elaborated that his company found it as an opportunity to find what the consumer wanted out of this new world. He noted that those who were obese had the hardest time with COVID, making fitness very important.
"The number one most important thing is to be healthy," York added. "That doesn't just mean physically. That means mentally, as well." Gyms did a fantastic job of providing a safe and clean environment, according to York.
One of the positive things gyms did is continue to build community through the pandemic. Community is an integral part of fitness life, and as things closed, that affected physical and mental health. Gyms had to find a way to break through to make connections. To do this, they did so virtually.
"We started inviting other people to get into group workouts virtually," York said.
But, not all fitness companies did, and they might not have survived or had to adapt quickly.
"I think we all learned some lessons as the pandemic hit us," Sedlack said. "Most fitness companies did not have enough of an investment in regards to the virtual platform."
Follow us on social media for the latest updates in B2B!
Twitter – @MarketScale
Facebook – facebook.com/marketscale
LinkedIn – linkedin.com/company/marketscale
Latest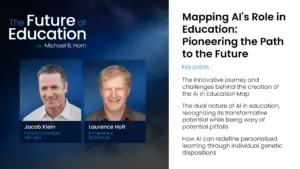 October 2, 2023
Mapping AI's role in education should be a critical step in bringing together innovative technology-based solutions with the expertise of human educators. With rapid advancements in artificial intelligence and an increased reliance on technology-driven educational solutions, the education landscape is on the brink of a significant transformation. AI promises highly personalized learning experiences, efficient administrative […]
Read More