The Biggest Takeaways Hoteliers Need from New Book "Hospitality from Within"
Commentary:
Big news in the hospitality space as our very own host of Say Yes to Travel, Sarah Dandashy, has a new book on the shelves, Hospitality From Within, and it's available for pre-order today!
We wanted to catch up with Sarah and find out what her inspiration for writing this book was; Sarah has a wealth of knowledge on running premier hotels and what it takes to be a top notch concierge. We picked her brain on what she wants hospitality professionals and readers to take away from the book, and why she sees the insights as applicable for today's industry.
Make sure to check out Sarah's podcast Say Yes To Travel right here on MarketScale, and follow Game Changers for more full length episodes and weekly bonus clips from the hospitality industry.
Abridged Thoughts:
I'm really excited about this because, for those that might know me or might not know a bit about my background, I've actually worked in the hospitality space for over 18 years and 15 of those years as a hotel concierge, specifically in luxury properties. And I wanted to write this book because as I've been able to pull together and think back on all of my career, seeing the shifts that are happening in the industry right now, I really wanted to solidify and identify a lot of the lessons I've learned along the way. And I think the part that I really love the most about it that really ties into the nature of hospitality is the community aspect. Of course, there are lessons and tips that I've picked up along the way, but I also share real stories from other hospitality professionals from around the world that just really shows you how universal hospitality is. So the last chapter is dedicated to special concierge stories from my colleagues and dear friends in multiple properties everywhere around the world. But then I also have quotes in the book as well, too, from different execs and leaders within the space. Now, for me, what I really want people to take away from the book are ways to just rethink looking at hospitality and how we can really tap into the root of it and how to give that genuine service, really tapping into what hospitality from within means. Especially right now and I think moving forward, hospitality professionals really need to rethink how they're doing hospitality, how they're delivering service. The landscape is changing and consumers and guests want something a little bit different. They want personalized experiences. They want something that's real, not cookie cutter as well, too. And I hope my goal, at least certainly in this book, is to maybe inspire those that are in the industry that have been in the industry for some time that maybe just need to be reinspired or reinvigorated or those that are interested in entering into the hospitality space, different things that they can think about and how they can really tap into the genuine love that all of us in the hospitality space really feel.
More Like This Story:
Latest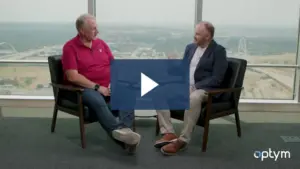 September 26, 2023
Making LTL shipping frictionless is more than possible; it's happening today. How can one challenge the status quo and embrace technological transformation in an industry that has historically resisted change? In this captivating episode of Semi-Related, Chris Torrence sets the stage for a riveting conversation with Todd Florence, the Chief Information Officer of Estes […]
Read More