Nike Dallas FC Was Created to Help Solve the Inefficiencies of Youth Sports
Key Points:
As new NIL rules trickle down to the highschool level in certain states, it poses an interesting conflict for coaches to manage players that are obtaining deals and if it will cause rifts on the team.
Division 1 athletics recruits athletes from across the socioeconomic spectrum and as college athletics changes the economic standing of these athletes it is important to learn lessons from how NFL rookies have handled their influx of wealth.
Commentary:
Sports is a dominant element of our culture and for better or worse, the road to the glory of professional sports starts at a young age.
On an upcoming episode of Game Changers, Host Katie Steinberg sits down with Nike Dallas FC President, Chuck Thompson, to discuss how he saw the inefficiencies of youth sports and how that led him to starting his own football team as his so called mid-life crisis.
Abridged Thoughts:
I think net net, it's going to be a positive. I think there's going to be lots of things that come along with it. But I think what you're doing is you're changing the economic standing of players across the spectrum, right? So some of the players come from poor families. These are going to be rapid changes. It's going to be rapid responsibility on the player right to manage it. We'll see what happens with young NFL players and the things that go on there. And now we're going to back that up four or five years or six years, whatever it is, right? You know what I'm saying? So they're going to be all of these challenges. Those are going to be negative. I think as far as from low income to high income, you know, I think if you look at the talent that's going into the division one, it comes from across the spectrum, right? So you have the kids that come from wealthy families can form all the personal training that are great athletes.
More Stories Like This:
After a 20 Year Professional Career, Warren Moon Had a Game Plan Post-Retirement
Latest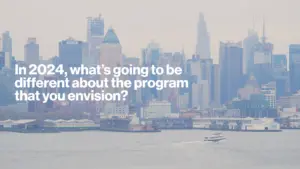 December 1, 2023
In the dynamic telecommunications landscape, Verizon's Partner Network continues to evolve, adapting to new trends and opportunities. For another segment featuring Mark Tina, VP of Indirect Channel Distribution and Channel Chief at Verizon Business Group, he explores exactly what types of significant changes and advancements the Verizon Partner Network will see in 2024. In this […]
Read More