The End of Hotels as We Knew Them: Say Yes to Travel
So often we hear about the travel industry from corporate executives and analysts, but it is important to hear the story of those working on the "front lines" of the travel industry. Today we sat down with April Blackwell, an Assistant Front Office at a a top hotel in Los Angeles, who shared some insights on what it was like to work in an operational position in a hotel while the pandemic brought the travel world to a screeching halt.
"At first, I didn't think it was that serious… but then as more people were getting the virus… I started to panic because our occupancy was about 3%… at then at some point I thought, I don't think we should be open. I don't feel safe anymore."
April's story is not unlike many people who work in hotels and even airlines. The pandemic was thrust upon us, and as the world tried to figure out the severity of the virus, many hospitality workers continued to go to work. Until the very last minute, people like April had to go to work and risk coming into contact with the virus. It was certainly a very challenging time.
Coming out of this, April figured that Los Angeles might not open back up until August. This interview happened in the last week of March, and just now in the middle of May, Los Angeles has just announced extending Stay At Home orders until the end of July.
There is no question the severity of COVID-19, and although we are well into two months of shut down, we still are cautious about what the future holds.
The Biggest Life Lesson From the Pandemic:
Make sure you save your money as you never know when something like this will happen.
April was also one of the first wave of people in Los Angeles to take a corona virus test. It proved to be challenging because at the beginning, tests were not readily available. But it was about taking ownership of the fact that she worked at a hotel and around people–so she knew she needed to be responsible and get checked. Once she found out that she was not positive, it was naturally a big relief.
April, like many other travel lovers, is looking forward to stay at hotels in the future. Yes the experience might change, and cleanliness is of the utmost importance, but for her, she travel is about the experience.
That being said, that is a big part of what we are looking for in the future–the experience of travel. As we all know it will change, but we will be able to explore the world again… it just might take some time.
If you want to find out more about April Blackwell, find her online at:
Instagram @april_is_b.well.mgmt

Latest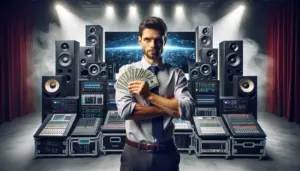 December 8, 2023
Mastering AV sales strategies in a global professional audio-visual (Pro AV) market, poised to reach $79.2 billion by 2028, requires much attention to detail. The surge in demand from corporate, government, and institutional sectors, driven by the need for enhanced productivity and efficient working environments, gives AV sales pros a lot of opportunity. In […]
Read More